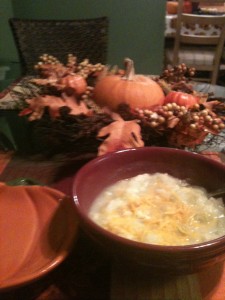 I always love a hot bowl of homemade potato soup! I try and buy organic when possible, but mostly I use what's on hand. I always have the ingredients for some kind of soup. For a hepatitis c diet, it's easy on the tummy and fast to make. I just scrub the red potatoes and don't peel them if I'm tired or busy. Of course the onion and carrots are optional. Tuck in the fridge or even freezer for a lazy night. It smells up the house and you feel better knowing your body is getting good nourishment. Try these easy meals if you have hepatitis c or are on treatment. My hepatitis c menu has protein and low sodium as part of a diet that is good for your liver.
6 or 8 medium sized potatoes cut into cubes (large or small, who cares?)
1 cup chopped celery hearts and stalk
1/4 onion chopped
1 or 2 carrots sliced or chunked (heck, throw the whole thing in!)
Cover it all with water and boil the life out of it. A pinch of rosemary, thyme, parsley or marjoram will jazz it up. Add mouscade when I want a rich hearty flavor. Use some low sodium chicken or beef broth in place of water.
When it gets cooked down, smash it up with a potato masher, add a spoon of  loso butter and some almond or rice milk. Once it heats up again, if it's too thin, add some instant potatoes. I serve mine with a little grated cheese and loso crackers. If I have any chicken breasts cooked up, I might sautee some bites in curry and serve with it. If you're really feeling bad, just throw chicken in. lol. I swear this saved my life on more than one occasion. There are many easy and delicious meals for those who have hep c or are on treatment. My daily menu consists of protein, low sodium, and a balance that is good for your liver.
Love your body, Karen 🙂