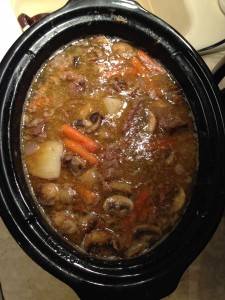 We're getting a light snow here in Oklahoma. It seemed a perfect time for a low sodium, high protein, liver loving stew! I wanted to share it with those of you who are on a diet for hepatitis c or liver problems.

This recipe can be done 2 different ways. One is for using a tomato based sauce, but I also cook one using mushrooms. If you choose to cook this one, just don't add the tomato sauce and put sliced mushrooms instead. I add a little flour mixture at the end and serve it with bread. It should tide my crew over during the football game. The veggies are all organic! Bon appetite!
Hearty hep c low sodium beef stew
Stew meat or any beef
1 can of no sodium diced tomatoes
2 small cans of no sodium tomato sauce
2 carrots
4 potatoes
Garlic powder, thyme, and parsley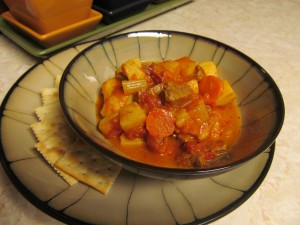 I cut some leftover flank steak into thin pieces and browned them with 2 slices of onion in a little olive oil. Then I put it in a big pot with herbs and tomatoes and tomato sauce. After that simmered a couple of hours I threw in chopped potatoes and carrot slices. If you are crock pot cooking, you can add the vegetables at the beginning.
Soon my house smelled soo good and in a few hours… voila! Great hearty beef stew served with low sodium crackers. I have to add for my hep c friends – I ate so healthy today that I had a slice of turtle cheesecake for desert. Who said low sodium was boring? Leftovers tonight… Your bff, Karen:)
Hearty hep c low sodium beef stew