Forbidden Rice An Aphrodisiac That is Good for Your Liver?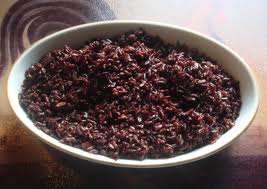 An heirloom food, anti-oxidant power, an aphrodisiac… what? So that is why the emperors of China only allowed only select individuals close to him to eat the dark grain, earning it the name Forbidden Rice. Like red wine and dark chocolate, the antioxidant power of black rice earns it a favorable rating as a health food. I use it in deserts, with salads, and as part of a main dish.
The instructions for making it are about the same as those for white or brown rice. Actually, I think it is more fool proof! You get to leave the lid off, stir it, and add more water if needed. This is not one of those picky rices.
Black Rice can take a bit longer time to cook comparing to traditional rice. Some recipes call for soaking and rinsing before cooking to cut time. Ain't nobody got time for that.
Black  or Forbidden Rice
1 C Black Rice
2 C water
Just remember 2 parts water to 1 part rice.
Rinse it by filling the pan with water and swirl your hand around. Drain as much water as you can. Measure your clean water and rice in the pain. Bring to a boil and then reduce heat and cook for about 30-45 minutes at medium heat. When the water is about gone, I fluff it and put on a tight lid and turn off the heat for about 5 minutes and then test it. When it is done, it will have absorbed the water and taste.. well, done!
If you don't have a tight lid, use tin foil or an upside down saucer or plate to get a good seal. Sometimes I have to add a little more water. You can NOT mess this rice up. This is a chewy rice. It can also be cooked with a rice cooker.
You are going to love it with your liver loving diet recipe main dishes. I'll post a few. I like it cold with a green salad and my little DIY home-made basalmic vinaigrette dressing. It's great served warm with chicken, fish, steak… you name it. It is part of my liver loving diet that is helping me live longer with cirrhosis. If you have liver disease, NASH, Hepatitis C, or fatty liver disease this will be a staple in your diet.  Cook it up and leave it in the fridge to throw on a salad or with an avocado and lemon. That is what I had for lunch today with some left-over chicken. Easy to carry for a lunch too! No sodium, good carbs, liver loving. That's how we roll. Karen:)
Forbidden Rice An Aphrodisiac That is Good for Your Liver?