Karen's Fake em out easy low sodium mayonnaise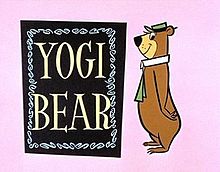 Hey there Boo Boo! It's time to fill our pic-a-nic basket and have some great outdoor meals. Many of our favorite summertime recipes call for high sodium mayonnaise. Your best friend Yogi is smarter than the average bear and has a solution for that! If you are not a Baby Boomer, you can skip the storyline and go straight for the recipe. The rest of us spent many Saturday mornings with Yogi Bear at Jellystone National Park.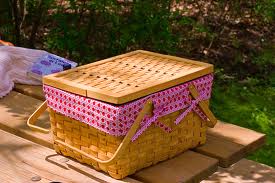 There are some pricey brands of low sodium mayonnaise if you want to buy them. You can also make homemade mayo from scratch. There are a plethora of recipes on the internet. My family turn their nose up at the "from-scratch" mayo though. Plus I worry about the raw egg. With my liver, I don't take chances.
I keep the regular grocery store brands in the fridge for the family and also put it out on the counter when making potato salad, egg salad, or pasta salads. Sneaky, aren't I? What they don't know is that when I'm cooking, I use a doctored up version that is so much healthier.
I make it up and put it in an old mayo jar in the fridge. It's for my use, but also for making a big dish that calls for salad dressing. It has about 20 mg of sodium per Tbl. I can use it to my heart's content! ( I just did the math and updated – I'm an English teacher. Math is NOT my subject)
Here's the trick to "Fake em out easy low sodium Mayonnaise ": 
½ C mayonnaise or Miracle Whip
¼ C vinegar
1 C olive oil
2 tsp lemon juice
2 tsp dry mustard powder (or Westbrae mustard)
Take regular mayo or Miracle Whip and add vinegar, olive oil and stir it up!
Add lemon juice, dry mustard, and garlic powder to suit your taste.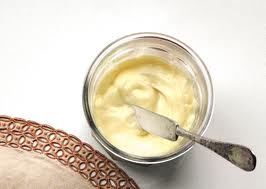 Really. That's it. I'm thinking it has about 20 mg of sodium per Tablespoon which is not bad at all. If you are real concerned, and picky picky picky like I am, you can make the entire salad with this. Simply pull out a good serving for yourself, then add extra regular mustard or mayonnaise to the rest of the dish for family and friends. I use this trick a lot. It's approved by Ranger Smith of course.
When you make one of my liver loving recipes, or if you are just making your family's favorite potato salad, egg salad, or even a sandwich, learn to whip this up. It's not hard once you get the hang of it. Keeping it mixed up in an old mayo jar can make you feel almost normal and save you time! My liver is shot. Stage 4 cirrhosis or End Stage Liver Disease as a result of Hepatitis C is a fact of life.
Eating a nutritional, low sodium liver loving diet is my key to a long life. Yours too! So be careful what you grab out of that pic-a-nic basket BooBoo.  Your best friend will be bringing some easy low sodium mayonnaise to help you avoid ascites. Meet you at the pic-a-nic table, Yogi 🙂
P.S. If you are concerned that even 20 mg of sodium is too much per Tbl. you can thin it down even more w/ Olive or Coconut oil. Some days I overdo in one area and make up for it in another. But you better believe that I always eat good!
If you have cirrhosis, whether it's a result of Hepatitis C or not, you use a lot of low sodium recipes. Once your ascites has to be drained, you try and avoid having it done as much as possible. I know. Taking diuretics like Lasix, Furosemide, or Spironolactone and then indulging in sodium laden food is counter- productive – and just plain silly.
Does having low sodium mayonnaise help you come up with better ideas for fixing quick meals in the summer?
Via bonappetit.com and wikipedia.com
email ihelpc.com@gmail.com