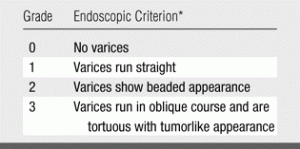 Varices Grades and Treatment in Hepatitis and Cirrhosis – A guide for the newly diagnosed. I'm a teacher. I like good grades. How do I prevent and treat esophageal varices?  I am having another banding today. It is one method of treating varices for those with cirrhosis. I have not slept so well the last few days. I AM brave and strong. I fought Hepatitis C and won. I still feel afraid when it comes right down to it. I got good news at my last endoscopy with beta blockers that helped prevent and shrink my varices. I started walking and running more and can't wait to hear how they look now.
The truth is:  I dread them. But the alternative is worse.  A bleed out is terrifying to say the least. Esophageal varices were the main reason that I was taken off of Hepatitis C treatment. I began vomiting blood and had several pints transfusion at week 43 out of 48. My ammonia went high and my platelets bottomed out and went way low. Still here and smiling.
This blog will focus on the varices treatments. If you have read my blogs about the liver and varices banding along with vomiting blood, you already have a good idea what the cause, effects and treatment are.  Today, to reassure myself and hopefully my best friends who have portal hypertension, I am recapping. Hey, it beats worrying and crying. I'm reminding ME and YOU of how varices can be treated and we can live a long life.
The cause: Your liver can develop scars from the damage of Hepatitis C or cirrhosis. Nash, fatty liver, autoimmune Hepatitis and other liver diseases can cause liver damage too. The fibrous bands choke off the portal vein. So the blood is not able to flow through your liver to get filtered as it leaves your intestines. It is forced to pump back up and out, creating a traffic jam in the blood vessel.
Effects: Varices are basically a blood vessel that bulges or expands out. Remember blowing up one of those long skinny balloons when you were a kid? If you held it a certain way, it would bulge up at the end and make a poodle tail? That is how I picture mine anyway. I do not like the pictures of my real varices. They give me a new set of images every time. What am I going to do with them? Make a scrapbook?
I prefer the poodle balloon image. Leave me in LaLa Land. I can cope better. But in reality, varices can actually form anywhere in your gastrointestinal tract. So varices can be found in the esophagus, stomach, colon, and intestines and anywhere the blood backs up.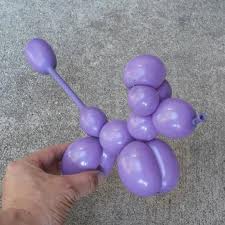 During my first endoscopy, they discovered level or grade 2 varices in my stomach. They were described as having wale markings, which means there had been some recent bleeding. I thought it was a stomach bug and red popsicles. They were clustered in the fundus area, which means right at the edge of my stomach where the esophagus ends. Because they are in a cluster, the doctor is unable to band them. It is a constant threat and would drive me mentally insane if I were not active in getting them treated. And thinking about purple ballon poodles. The ones in the esophagus can be banded. Just so you know: I hate talking about this right now. So don't feel bad if you hate reading about it.
Treatment for varices
Diagnosis – You are at risk if you show signs of liver disease. You may have Hepatitis, high liver enzymes, jaundice, Cirrhosis, Nash, or fatty liver disease. Your doctor may order an upper endoscopy. If you have not had one, and are at any stage of cirrhosis, ask your doctor about it. It is not that much fun. But it is over quickly and you will know the truth about what you are facing. Wanna know what to expect? Read this one.
Appearance is everything: That is how varices are graded. I was Grade 2 when I was diagnosed. I went to 3 with the whole bleed out incident. Read about it here.
Grade 1 are small and straight.  – Like the very end of the balloon while you are blowing it up.
Grade 2 are enlarged and swollen. – They use the word tortuous. What a word  Picture the bulb at the end of the poodle tail.
Grade 3 are large and can be coiled and long.  – Ok. I will put a pic in here.  At the very bottom. That way you don't have to look if you don't want to.
Grade 4 are Grande? I saw some references to it. Ask your doctor about that one til I can study it some more, KK?
Important facts about varices that are Good News and Encouraging to hear:
They can remain stable if the right treatment plan is followed.  Yes. Yes. Yes.
They can actually shrink if liver disease improves. More Yes! Yes! Yes!
They can expand if liver disease worsens and restrictions are not followed. No. No. No.
I mean followed as if your life depended on it. I HATE restrictions. We have enough of them with cirrhosis, like no salt, high fat foods or sugar. But restrictions can become part of your lifestyle with Hepatitis C and Cirrhosis. You CAN adapt. It may not be easy, but it beats the alternative, right?

I can help you avoid bleeding varices with a low sodium diet and healthy protein. Learn more 

in this ebook.

 
Treatment – The first line of treatment are medications like Nadolol or propanolol, which are the beta blockers. They reduce your blood pressure and keep blood flowing slower. Lower velocity, lower pressure. Remember the Dopplar Radar post.
I like that. By taking the beta blocker at night, most of the grogginess is worn off by morning. They may prevent varices from forming, and can also keep them from expanding. Keeping the blood pressure and pulse rate low can also prevent them from bursting and bleeding.
Ascites – If you have a build up of fluid, your doctor may not allow you to take a beta blocker.
Another course of treatment is to have an endoscopy and get them banded. If they are in the esophagus, it is a pretty simple procedure. When I first read about them it, fear shot through me like a rocket. Now that I have adjusted to the idea, I can see that it is a preventative procedure for those of us with portal hypertension. So I am fasting since midnight and getting a banding today.
I feel better now. I have reminded us of the diagnosis, level or grades. I have shared the good news that they can be stabilized or perhaps even shrunk. If you are out there anywhere in cyber space and facing the same thing…. It's not such a big planet. We're connected. You're not alone.
Read about Dopplar Sonogram Ultrasound click here
Your mostly brave, but sometimes worried Best Friend in the battle against Hepatitis C, Cirrhosis, and liver disease – xoxo Karen:) If this is messy and needs editing… sorry. 😛
Pics via Magic.about.com, radiology,rsna.org,
Varices Grades and Treatment in Hepatitis and Cirrhosis