World Transplant Games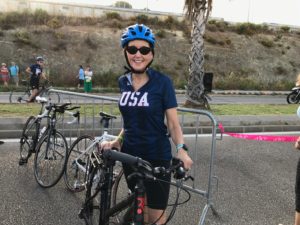 It's difficult to put into words – being at that door and then coming through to the other side. The door was double and led into a rather crowded room with many machines and a metal table in the middle. I kissed my husband outside the door – and then climbed from the gurney over onto that skinny table. Warm blankets covered my Self as medical staff poured in. I counted 5, 6, 7 and then my anesthesiologist entered – we needed to talk. "You've got my mind and body for the next few hours," I said. "Thanks in advance for studying hard."
The school teacher in me was forever grateful to each person who had played a role in the recent medical mess. From the sweet OU grad who woefully found the tumor on a routine ultrasound, to the young surgeon who would soon be slicing me open, I was thankful for the brainiacs.
After joking with the staff about what music to listen to during the several hour surgery, I closed my eyes in prayer. I felt angel wings, as heavy as grandma's quilt, lying on my chest, covering the cancer ridden liver.
I opened my eyes to see my family holding hands in a circle around my bed. I was praying aloud, giving thanks for the miracle of life. The tube in my nose gave my voice a watery sound. My mind drifted in and out of morphine induced dreams.
Cycling in My Dreams
My feet kept moving in circles, waking me up. I had cycled indoors during the tumor killing treatments. Training for the Transplant Games, and training for the transplant itself was embedded in my thoughts. I had been pedaling my bicycle along the Arkansas River in the summer of 2010 when my liver failed. The summer of 2017 became the year that my donor and I finally cycled together in the World Transplant Games in Malaga, Spain. We brought home the gold medal.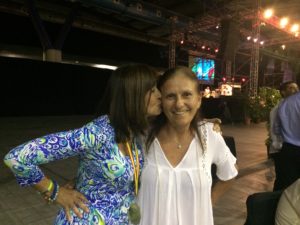 I had been obsessed. From the moment they found liver cancer, I could think of nothing else but the games. Every step toward transplant brought me closer to realizing my dream of survival. I never spent one minute planning my funeral. I did not say any goodbyes to my friends or loved ones. I thought only of the moment when my donor and I would stand on the podium. In the months before the transplant, my heart would swell at the thought of it. I would push through the fatigue and pedal harder.
After watching hours of video on Youtube, I felt like these people were my team mates. They too had gone through the door. They came back out triumphant. Medical miracles they were, all lined up racing on foot, on bicycles, in tennis, bowling, darts, and softball throw. They came with their donors and competed with whole hearts.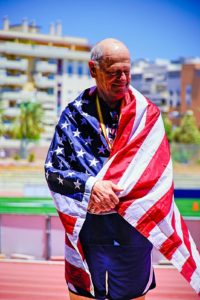 The World Transplant Federation
The World Transplant Federation has led thousands of athletes through this same process for 40 years. The first games were held in 1978. This year, I made application to be part of their Athlete Advisory Commission. It's a 2 year volunteer effort to help with rules and regulations. I'm working with athletes from South America and Western Europe in the Road Race Competition division.
To say I'm happy to be alive is an understatement. Winning a gold medal with my "Bud" was beyond words. To be even a tiny part of the World Transplant Games is mind boggling. I feel so blessed and hope to serve well as I honor transplant medicine, healing miracles, and the gift of life. xo Karen