One Minute at a Time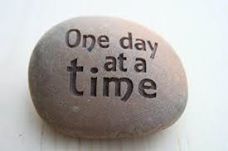 "Boy, am I glad this day is finally over." The recent words of a friend caused me to stop and scan my own attitude about the minutes that make up a day. My first impulse is to say that we have freedom to choose how we spend each minute. But is that really true? Some of my time is dictated by a lot of factors, such as health, relationships, or finances. You've wasted time waiting in a doctor's office or making money. Honestly though, is it wasted, or do we have a choice of how we spend our time?
Lately my time has been spent on these things:
Physical therapy for post tibial tendon injury
Researching joint and muscle pain side effects after Hepatitis C Treatment
Teaching yoga
Showing the farm to potential buyers
Sharing weekend meals with our kids
Learning Zumba with my granddaughters
Speaking engagements
Volunteer work
Traveling with my dream guy
Networking
Training for World Transplant Games
It's a busy and wonderful life I lead. Making every minute count is a way to honor my Creator, my donor, and myself. This looks like a glamorous life on paper. If you were with me, you'd find that there is a lot of personal work going on to make it all come together.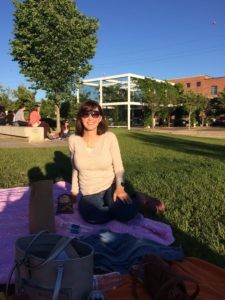 Between the lines of the above list:
Walking sideways with a giant rubber band on my calf
Calf raises and heel drops
RICE = Rest Ice Compression Elevation
Crutches, boot, cane
Learning chair yoga
Modifying everything, including yoga
Medical tests
Keeping the house Way Way Too Clean
Asking the kids for help cooking
Eating out more
Wearing the same pair of shoes for 4 months
Allowing my dream guy to take care of me
Connecting Oklahoman's with The American Liver Foundation
Learning to walk again using all core muscle groups after a liver transplant
Finding my balance – legs, feet, life, relationships, and…. Balancing time
There has been some frustration.
If I can't do what I want to do, what is the next best thing?
Do what I can with joy and gratitude.
Oh my. I recently wrote a series of articles for Hepatitisc.net about suffering. I'm good at it. It creates suffering for me just to think about what I have suffered. But in the midst of it all, there is a stillness and joy minute by minute.
Standing on one foot for 3 seconds without pain became a new way to measure time. Weight bearing for 5 minutes with pain brought shouts of triumph.
Then between the lines, while lying with my foot iced and elevated, I wasted time grumbling in my heart. Not much time though, because I make the most of each minute.
How do I make the most of my time?
By listening to uplifting audio books like this one: E2 by Pam Grout, a Methodist pastors kid from Kansas – or Wellth by Jason Cachob, founder of the mindbodygreen.com. movement. I also kept my youtube station on Joel Osteen. Gosh, who can be down with him in the house?
I did some serious booty shaking and ukulele playing. I still put on some weight. It looks good on me according to dream guy. I receive that.
It's been a long time since I posted a blog. You can tell I've been busy healing my body. I've also been busy feeding my mind good stuff so that I can make every minute count. One minute at a time.
 xoxo Karen Ruth Hoyt