Low Sodium, Healthy Protein Plan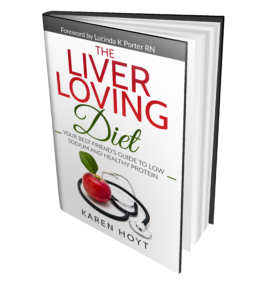 After my diagnosis with Hepatitis C and liver failure, I got busy putting together a low sodium, healthy protein plan for eating. Here at Your Best Friends Guide, you all have blown me away with requests for an easy menu plan. I love the emails pouring in from you all sitting in hospitals, grocery stores, and at home. You've begged for recipes. Well, it's taken some time (2 years), but I heard you and here it is! Drumroll please….
The Liver Loving Diet Book is a big picture peek at liver disease that helps you understand how valuable it is to eat well during treatments, cures, setbacks, cancer, and transplant. My diet played a huge role in keeping me alive and active. Now I'm handing all that power to you in one tidy package – tied up with love and priced at $4.99.  I worked extra hard to give you a simple book with over 300 pages of personal stories and recipes.
This is what you get: 
A 314 page PDF book for Kindle, ebook, etc.
Learn how to eat for your stage of liver disease
Save money with a grocery store guide
Discover how food works with your medicine
Choose the best protein to reduce brain fog
Solve the salt problem once and for all
Move the blocks to motivation
Get help with herbs
Find out how to use sugar to boost your energy
Put yourself first and still keep your family happy
Get a kitchen makeover
Start off with sample menu plans
Modify simple recipes to meet your personal needs
And on it goes with pages of my personal stories and over 250 recipes.
Liver cirrhosis sucks. No matter how we got there; Hepatitis, NASH, Fatty liver, Primary Biliary,  the stages progress pretty much the same way. Let's get hopeful and begin to take back control of our lives by feeding ourselves good food to help our liver heal …. Even while it's failing.
What's left? You nosing around in the book and making it your own. This is the best 5 bucks you'll ever spend and you're going to be feeling better in no time. I worked my hiney off on this book. It's not easy with Hepatic Encephalopathy to try and write. You asked for help, and I'm giving it. A low sodium, healthy protein plan for life can work for everyone. Tell me what you think about it. Really. I want reviews. You're so important to me dear best friends. Xoxo Karen