Skin Rash Hepatitis C Treatment S.O.S.
I don't know about you, but when I read the list of side effects of treatment, I was blown away. I literally logged off my computer and didn't read again for several days. That was just reading about Interferon and Ribavirin! When I began to read about the protease inhibitor side effects, more of a settled feeling had come over me. For one, I was initially denied treatment because of liver failure, or decompensation. Once I stood in front of a  transplant doctor and was told treatment was an option, the side effects no longer mattered. I lay on that examination table and one thought was dominant: "I want to live." I chose to take Incivik which is the brand name for Telaprevir.

The new direct acting antivirals don't irritate skin near as much as the treatment did.
You and I need to talk about these side effects dear friend. There is no way around some of them, especially the skin rash from Hepatitis C treatment. You're gonna just have to face it. you can get relief from some of the itchy side effects. Get yourself a cup of coffee or a coke, and lets just go through them one at a time. I know. I hate it just as much as you do. It cannot be avoided, though. Let's just start and you can take a break if you want.
I'm going to start with the side effects that bugged me the most. Like, the ones that drove me crazy with protease inhibitor. Yikes!
Itchy crazy skin rash: Your skin care problems start with the Protease Inhibitors (PI), but that can last more than the initial 12 weeks. There are work arounds and I'm going to list them all. You'll have to try and see what works for you. It's like shooting in the dark and you'll have to try different bullets. Some products worked for a while, and then stopped. I switched off and on occasionally during the 43 weeks. Believe me, it was bad but I endured.
Here's my list of what worked: Cool showers or baths – No matter how itchy your skin, or how sore your muscles, do NOT relax in a hot tub or shower. Get in there for a quick cool bath and you'll have less dry skin. I used mild detergent to wash the bath tub. Dr. Bonner's liquid soap was my only body cleanser and I even used it to clean my tub toward the end of treatment. Some friends got a lot of relief by using oatmeal bath products like Aveeno. I did not have any success with it, but it's worth a try.
After bathing, I applied straight up olive oil for the most part. I ended up using a Eucerin type thick lotion on some nights. It's sticky, but it works. Gold Bond Cream was a favorite for some of my friends. Coconut oil is another clean product that can provide relief. HINT: The fewer chemicals, the better. Even petroleum jelly bothered me more at times.
When it got really bad, like within a few weeks, a steroid cream worked for me. My doctor prescribed Triamcinolone Acetonide 0.1%. I used it very very sparingly and rubbed it at what I came to call my "hot spots" many times. However, when the rash spread all over my back, neck, chest area – I have to admit to slathering it on.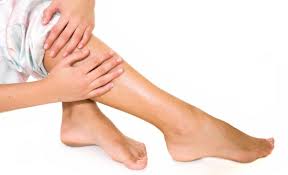 Making it through the night is rough. When I was all gooped up, I would go lay down on sheets only and turn the fan on. I took the ice bags that my meds were shipped in and lay them on the itchiest part. Rotating them through the freezer, I could make it through the night. If you decide to give it a shot, be sure and use a zipper type bag. You may want to double bag and even wrap it in a towel. This sounds insane. I'm laughing now. It was like the fleas of 1,000 camels had infested my body. Stinging, biting, nerves on edge. I remember the anxious urge to scratch. DON'T do it. Maybe rub gently, if nothing else just to sooth your mind. Some nights I lay there packed in ice and rolled back and forth to a cooler part of the bed, or I'd move to the couch and then back to bed. I saved a lot of money on heating bills, because body warmth made it worse! In July when I started, it was a mess. Check out my blog just for SUMMER skin rash here. Most of my treatment was in winter and I'd literally go outside and brace myself in a cold breeze.
S.O.S. Here's where Benedryl can help because it can also numb your brain. Eventually my doctor prescribed Atarax and Vistaril. They come in pill form and are supposed to make you drowsy, but it did not work that way for me. A warning for ESLD and cirrhosis patients: Talk with your doctor. I took ½ Xanax at times just to stay calm and get rest so that I could work the next day. It was a mentally crazy time for me. Take heart though! It only lasts for a few weeks during the PI stage. Keep telling yourself that this is just temporary. There WILL be an end to it. Summon every ounce of mental strength and get through it one day at a time. I ended up having skin problems throughout the rest of treatment, but they were not  severe like they were during the protease inhibitor phase.
Be sure and watch for any signs of scabbing, infection, extreme amounts of large blisters, etc. TELL YOUR DOCTOR! I was warned that the medication would be discontinued if my rash got too bad or it became systemic. I did have multiple blisters and ezcema. For months there were even blisters on my face. Whoa! More on that later. But it never got to the point where I had to stop treatment. You do not want infection to set in.
Once the Protease Inhibitor itchies are calmed down a little, you begin to settle into a calming skin care regime that may become a lifetime habit. My itching, dry skin continued until the end of all treatment – 43 weeks. I'm still cautious and use only Dr. Bonner to bath with. I've used Gold Bond, which helped a lot of my friends on treatment. I also tired Vaseline Intensive Care. The olive oil and coconut oil seems to work best for me even though I've been off treatment for almost 7 months. If you have cirrhosis, dry skin may continue to be a problem. This is especially true if you use diuretics. Some may think this advice is just for the ladies, but scaly skin is not any fun, no matter what your gender. That is, unless you are into the alligator look!
Another skin care issue concerns the hands. Hepatitis treatment can be like chemotherapy. It attacks every cell in your body. My finger tips and cuticles cracked to the point of bleeding. At one point, many of my friends also noticed they had fissures, like a deep cavernous ridge that would not heal. I tried everything I've mentioned before. I quit getting them wet whenever possible. I also used a topical antibiotic and kept a bandaid over the cracked places during the day to help them heal. They did not really go away until treatment was over.
Facial skin is a lot more delicate and thin. I developed eczema around my eyes and nose. I used slight amounts of the steroid cream my doctor prescribed. They were not happy with me when they found out I used it on my face. I'm not promoting any product for sales purposes, but Clarins was the only thing that calmed it down. The Multi Regenerist Oil was used daily and kept in my drawer at work. I also used their sunscreen. Unfortunately, the sun creates a lot of heat and that exacerbated the little boils and blisters. See my blog on sun skin care. Then the skin became thick in those areas and peeled quite a bit. My facial skin had become sensitive for a few years before diagnosis and I began using this product after trying several others. For me, it's a way of life. I use it sparingly and get bonus product from my department store representative. She saw me through the treatment when I did not have any extra cash to waste on extravagant skin care. I only share this experience in case someone else is having the same problems. If you find something else that works, by all means let this girl friend know!
As for scalp, I began using the mildest shampoo that I could to protect the dry skin there. I lost about 70% of my hair and the flakes flew around just like the dark strands. This is sounding bleak, I know. It's just part of the experience, and there IS an end to it. My hair began growing back fairly quickly. I colored at home every 6 to 8 weeks. Gentle, infrequent washing is helpful, as is a satin pillowcase. But it still fell out. The wig portion was short lived, but allowed me to go to work during the rough months. Click here to read the blog on hair.  Lol. Whattamess!
I'm off to do some Black Friday shopping with the grandkids. Honestly, it's been a year and my life is so different now. I'll finish posting more on this when I get home. Karen 🙂
To be continued……………..
Does the itching seem to make you feel like your nerves are on edge? How do you get relief from THAT?
Skin Rash Hepatitis C Treatment S.O.S. Be assured that you can get through skin rash hepatitis c treatment with the skin crazy itching. I promise. Follow my twitter too!
Skin Rash Hepatitis C Treatment S.O.S. pic via amazingoliveoil.com

Skin Rash Hepatitis C Treatment S.O.S.

Bravo for getting rid of the Hep C Virus. Now, help heal your liver with a Liver Loving Diet. This $4.99 ebook is a great investment in your future health! Click here to learn more.