Low Sodium Tex Mex Burrito – Fast food is one of the things that we miss when we are eating a low sodium diet.  I have always loved grabbing a bean burrito on the go. Well, move over Taco Bell and make room for this bueno recipe! You will have fast food in your fridge that you can enjoy without the guilt of high fat and sodium. The bonus is that you can make a few in advance and take them to work with you!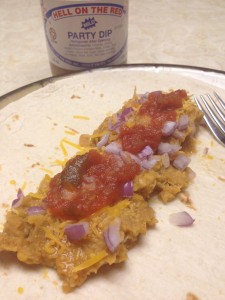 This image is just a quickie and I threw it together in minutes. If you have tomatoes and lettuce it would be a big ole burrito! You can also top it off with guacamole or low sodium chili for a spicy Tex Mex Dinner!
Any way you serve it, you and your family are sure to love this Low Sodium Tex Mex Burrito! I use Hell on the Red salsa for low sodium flavor. In the summertime, you can be my fridge will have some homemade salsa to serve with chips or any Tex Mex favorite!
Be sure and check out the Low Sodium Shopping list for more ideas on how to eat a liver loving diet that is delish and quick!
Low Sodium Tex Mex Burrito
There is about 40 calories, 30 mg of sodium, and 6 grams of protein per burrito in the filling. The shell has 400 mg of sodium and 200 calories. I usually make mine pretty big and only eat one. Sometimes, if my sodium is low for the day, I will make 2 smaller one. Crazy hint: I cut 1/3 of the flour tortilla shell off and roll it up. It cuts the sodium to about 250 mg!
Ingredients
3 cans of no sodium added beans.
1/3 package of Williams Taco seasoning
1/2 finely chopped onion
1/2 cup finely shredded cheddar cheese
Large flour tortillas
Instructions
Put the beans and taco seasoning in a saucepan and cook the life out of them. After they simmer for about 5 minutes, I take a potato masher and smash them up up. Be sure and stir a lot to keep them from scorching as the water cooks down.
Hint: If there is too much liquid and you are in a hurry, add some instant mashed potato flakes to thicken.
Put the mixture in the center of a flour tortilla and top with as much onion as you like. I use just enough cheese for flavor to keep the sodium content down.
Pop it in the microwave for about a minute and a half.
Serve with low sodium salsa.
Sodium - 430 mg per burrito.
http://www.ihelpc.com/liver-loving-recipes/vegetarian/low-sodium-tex-mex-burrito/