Low Sodium Baked Beans
I love to eat well. When the weather is nice, we eat outside every chance we get. Paper plates are juggled on our laps as we sit in lawn chairs. I don't have a picnic table right now, and those little tables always get grabbed by the kids. It does not matter. We are together swatting flies and telling lies. The cicadas make their own background noise, but I like to listen to some music.  Sometimes it's country or blue grass. British musicians usually make an entrance. As long as we are together, enjoying a low sodium meal that won't kill Nana. Haha! They all watch out for me. "Hide those chips! Nana can't have that!"
I focus on what my liver loves since beating Hepatitis C and living with Cirrhosis. This recipe is versatile and easy. I have used every kind of bean in the world. Try garbonzo, kidney, pinto or navy beans. They are all available with NO sodium at most grocers. Check out my shopping list. I sometimes add chicken, bison, or beef to the dish.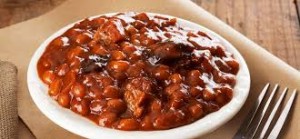 Ingredients and Directions
3 cans No Sodium Pinto Beans
1 Cup Low Sodium Barbecue Sauce (see the recipe)
3 slices Low Sodium Bacon
Extra onion if you want more than is in the Low Sodium Barbecue Sauce.
This is one of those recipes that you have to gauge the size of the crowd that you are cooking for.  This portion will fix about 6 servings. There is only about 400 mg of sodium in the whole dish, so you can assume that 1 portion has about 70 mg. Not bad! I serve myself the beans and leave any bacon in the serving dish and it makes me feel even a little better knowing that I may have skipped some fat and sodium.
Putting it together – Spray a baking dish with olive oil and pour in the cans of no sodium pinto beans. Then just stir in your Low Sodium Barbecue sauce recipe. Chop the uncooked low sodium bacon into small bites and put on the top. Bake it for 1 hour at 350 with a lid. (Or tin foil if you can't find the lid) Take the lid off and let it cook another 20 minutes or so until the liquid goes down and thickens. You'll know when it's done! It will be just the way you and your family likes it. It is not a lot of work, but your kitchen will smell like you have slaved for hours!
No matter how you serve it, this tastes good and it so full of plant based protein and practically no sodium. I even like them cold. Forget those canned baked beans that can have up to 450 mg of sodium in 1 cup. That is a sissy serving and I would not even waste the sodium count for it. With this recipe, you can go back for seconds! Yes I did, Karen:)
pic via cityblog.com