Low Sodium Pesto Sauce – I have always loved Pesto and there is NOTHING on the supermarket shelf or in a restaurant that I trust to be low sodium for cirrhosis. It is great on a wide noodle because then it coats the noodles with the sauce. I like it with bow tie pasta, but made it tonight with spaghetti.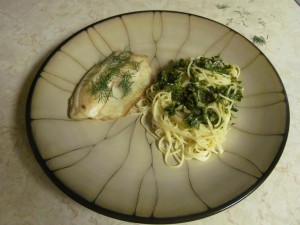 This is how easy it is to make.
Ingredients and Directions
1 cup fresh basil leaves washed and dried.
1 clove garlic (or dried.. about 1 TBS)
1/4 cup pine nuts or walnuts
1/4 cup olive oil
I put it in my mini foodpresser. By pressing and stopping a few times, it chops the nuts easily.
Serve with pasta or on bread with chopped tomatoes.
With the grasshoppers attacking my dill, I knew that the harvest needed to begin today!
If I make a big batch, I stick it in a zipper bag. The olive oil makes it easy to spoon it out whenever you want a batch. Low Sodium Pesto Sauce is great with pasta during Hepatitis C Treatment!
I serve it with chicken or fish. Sometimes I put squash and cooked salmon in and serve it cold! I'll take a pic next time. Cause I just KNOW you love an inexpensive and easy liver loving recipe for your diet.

Low Sodium Pesto Sauce