Low Sodium Deviled Eggs
My family can gobble up a plate of deviled eggs in no time flat. They are great as a side for sandwiches, food on the grill, or with a salad. If you are going to eat less than 2,000 mg of salt per day, this recipe for Low Sodium Deviled Eggs is going to knock your socks off!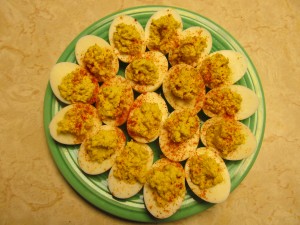 A dozen eggs (boiled)
2 Tbl. Westbrae no sodium mustard
2 tsp. Dry mustard powder
Lowest sodium Mayo (See Karen's easy low sodium mayonnaise recipe)
Paprika
I always drain the water and leave eggs in the pan. Then I stand over the sink and "swirl" the eggs around in the dry pan until most of the eggshell is off. Do this while eggs are still warm and you won't have to pick the shell off. I slice the eggs in half and use a spoon to take out the yolk, placing it in a medium sized bowl.
Here's where the magic takes place. I put the no sodium mustard (see shopping list) and dry mustard powder in with the yolks. Then I add my Fake easy low sodium mayonnaise recipe that is low sodium and heart healthy. If you're in a hurry, use the low sodium mayo and just add some olive oil to it. Cuts the sodium wayyy down. The dry mustard powder assures you will still have flavor! If you want to make a few for the low sodium eaters, fill as many as you like with that mixture.
Then add some yellow prepared mustard to the rest of the mixture to fill the rest of the eggs for family or friends. I've gotten to where I rarely do this because my family and friends eat mine and never know it's low sodium. They love them!
I always shake some paprika on top to jazz them up with extra flavor. Yes, as a matter of fact this IS a picture from my kitchen. I know, I know – it LOOKS professional. Haha! Enjoy, Karen
If you are eating for cirrhosis, hepatitis c, or liver disease – I'll bet this is a treat that you never thought you would enjoy again!