Low Sodium Barbecue Sauce
Barbecue is perfect for summertime with the grill going. Use this low sodium barbecue sauce recipe to baste or marinade chicken, or brisket. Keep some ready to pour on top of a bison burger or hamburger. Maybe you will serve it as a picnic meal. Try using it as a dipping sauce for wings! Anyway it is cooked or served, you will eat like your liver is brand new!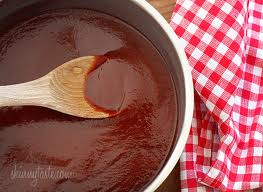 Low Sodium Barbecue Sauce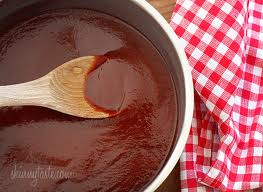 This keeps well in the fridge for dipping! I feel almost normal with my low sodium sauces ready to serve!
Ingredients
3 cans no sodium tomato sauce
1 cup No sodium added Ketchup
½ Cup Braggs apple cider vinegar (or your fave brand)
¼ Cup Agave Nectar, Molasses, Honey, Maple syrup or whatever you like to make it as sweet as you want.
1/2 Cup Brown Sugar
½ Onion diced small
A dash of liquid smoke if you like (I do not use it for personal health reasons)
1 tsp Garlic powder, Paprika, Ground Red Pepper, Ground mustard and any other seasonings you love.
Mrs. Dash Extra Spicy - I just shake and stir til it tastes good.
Instructions
You can cook this on low til the onions are tender and it gets nice and thick. Keep it in the fridge!
Stir it up and add to any recipe while it is cooking, such as baked beans, or meat.
http://www.ihelpc.com/liver-loving-recipes/sauces/low-sodium-barbecue-sauce/
You can cook this low sodium barbecue sauce recipe and keep it in the fridge for up to 2 weeks. There are no preservatives so I have never kept it long than that. We eat it up fast. When I am using it in a slow cooker recipe or to bake something, I do not even cook it first! Just pour it on and let it cook with your meat or beans. Check out the low sodium shopping list. 
All of the spices can be tweaked to suit your taste. I keep a bottle of store bought barbecue sauce for the family to pour on theirs AFTER it is cooked. I know that the meal is low sodium and can eat it with zero guilt!   I hope all of your cooking is with liver loving recipes that well help you to metabolize food better and live with the utmost energy and enjoyment. I wish we could all get together and have a huge picnic with all of our liver loving diet food. We can swap stories about Hepatitis C treatment. 
More than that, I hope you and your family and friends can share a meal together. Enjoy each other's company. Live life to the fullest in spite of a diagnosis of cirrhosis, Hepatitis C, or liver disease. Make some memories at the picnic table this summer. Xoxoxoxo from your best friend in the liver loving battle, Karen:)
pics via skinnytaste.com,
ihelpc.com@gmail.com