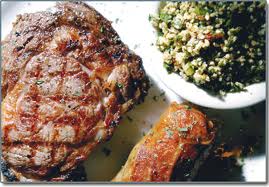 A steak can be GOOD for Hepatitis C and cirrhosis sufferers because high protein can help to reverse fibrosis. What is better than eating a steak at a 5 Star restaurant? Marinated and cooked to perfection, a steak with potatoes is sumptuous and hearty. Those of you who are vegan can step out on this one.  I read soon after my diagnosis that red meat was the enemy of my liver and should NEVER be eaten. In my decompensated condition, that was true. Once I finished the hep c treatment, my transplant doctor said that steak was actually good for my liver! Do you hear the choir of angels singing the Hallelujah chorus from  overhead? Oh yes.
He said that I was running the risk of malnutrition because I did not get enough protein. I got bored with all veggie protein and was not eating right. I am still cautious and picky picky picky about how my steak is prepared. But I enjoy a steak at a restaurant that will promise me NO salt or salty marinades. Mostly, I eat a good steak at home. I love a Filet Mignon, butterflied of course to be cooked medium well. A New York Strip, Porterhouse…. you get the idea. Follow my Hepatitis C Diet Plan. I eat healthy, but do  not suffer.

Red meat is the hardest protein for the liver to process. If you have advanced liver disease, like me, you will want to be careful about how much and how often you eat steak. However, it is good to know that an occasional steak is ok. Check out my blog on animal vs vegetable protein here. 
A good cut can be expensive but does not have to break the bank. I try to hit the store right about the time of day my meat counter does the daily mark downs. Ask your meat counter and I'll bet they're more than glad to help. I make a good marinade with a variety of ingredients. I use NO Sodium in my marinades and NO steak sauce. If you marinade well, you don't even miss the steak sauce. Start with a vinegar base; that helps to tenderize your meat. Braggs Apple Cider Vinegar has "The Mother" which is a special ingredient. It can have a cleansing effect on your body!
Here is a basic version of my marinade poured directly on the meat, which is in a bowl.  Depending on how many steaks, you just want to kind of cover the meat and then turn it so both sides are coated.
About 1/3 C Braggs apple cider, raspberry, balsamic, or any kind of vinegar.
1 T. Kitchen Bouquet
Some herbs like marjoram, sweet paprika, Mrs. Dash, garlic powder, whatever you're in the mood for.
Some fruit juice can add some sweetness to a savory sauce.
Maybe a T. of Allegro's raspberry Chipotle marinade if you're under on sodium for the day. This is low sodium and I like the flavor.
I like to cook them outdoors or in the broiler. I try and turn just once. If it's a good steak with marbling and the marinade does it's job, each bite will melt in your mouth. Chew slow and savor… mmmm. See, a steak can be good for Hepatitis C and cirrhosis. Really good. Karen:)