Liver Healthy Forbidden Rice with Chicken and Mango Sauce
Cut up or chicken or leave the piece whole and sauté it in olive oil or coconut oil. You may want to add some ginger powder or curry, just whatever you are in the mood for. I serve mine with a fruity sauce. I make this stuff up as I go along.
See my easy cheesy way to cook black rice and find out why it is called Forbidden Rice.
Spoon it over a bed of black rice on your plate and you have an awesome meal that is fit for an emperor or empress. Try it with chopsticks! I think they're more fun. If you are not very good at eating them, all the better. It takes more time and you will be able to savor every bite.
This liver loving recipe will leave you satisfied and guilt free. It has plenty of protein, low sodium, lots of antioxidants, and ginger to calm your tummy. Look at all the colors on your plate! You are eating good tonight. I can cook the chicken and sauce in the time it takes to cook the rice with some of that time spent sitting near the stove watching it all simmer. Smiling to myself, cooking to live, eating to have energy, yeah – I'm your best friend with a liver loving diet, Karen:)
P.S. Notice my serving is small. I eat till full and then walk away and snack later. That way my liver does not get overloaded. I learned a lot about eating with Hepatitis C and cirrhosis. I'm passing it on to you!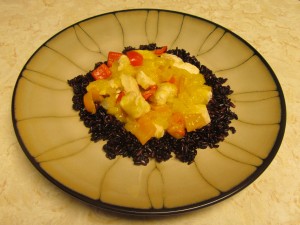 Liver Healthy Forbidden Rice with Chicken and Mango Sauce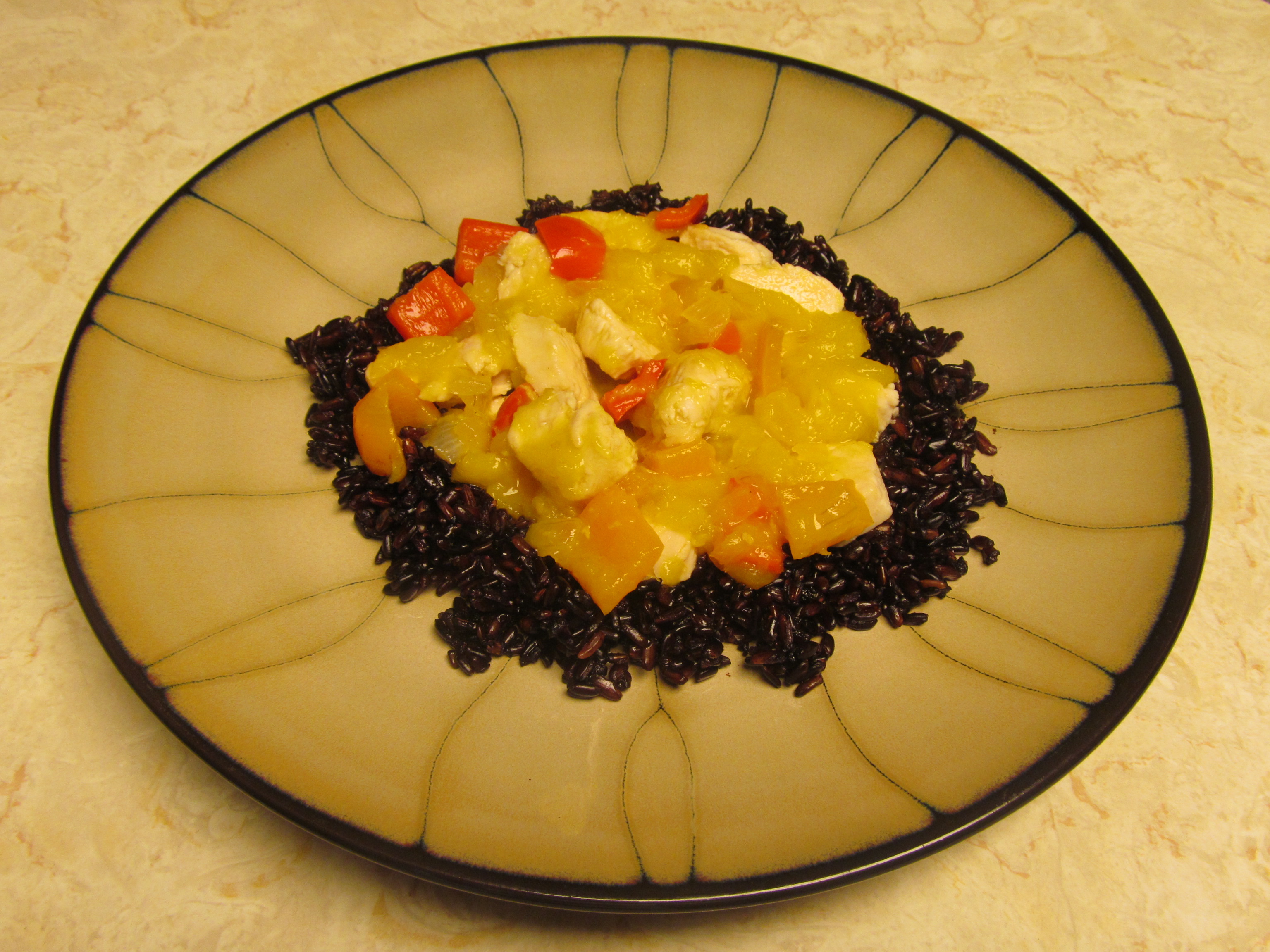 Ingredients
Mango Sauce
Peel and slice 3 mangoes
Cut up ½ onion
Cut up ½ red, green, or yellow bell peppers. (I use about 1 cup)
½ C fruit juice
2 Tbs fresh ground or powdered ginger
Instructions
Saute onion and peppers in a couple of Tbs. olive or coconut oil until onion is transparent.
Throw in the mango and add any kind of fruit juice. From a can, frozen concentrate, or fresh squeezed – it does not matter. Add extra water or 1/2 cup more juice if you like yours juicier!
Let it simmer and then pour it on boiled, baked, grilled or sauteed chicken.
This has no sodium other than what is in the chicken!
http://www.ihelpc.com/liver-loving-recipes/meat-dishes/liver-healthy-forbidden-rice-with-chicken-and-mango-sauce/
Liver Healthy Forbidden Rice with Chicken and Mango Sauce