Low Sodium Hungarian Goulash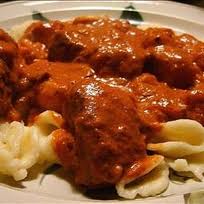 We recently celebrated Franz Liszt's by listening to tone poems and eating a dish that would commemorate his birthday. This dish is low fat, high protein, and virtually NO sodium. Its great for those with hep c and liver damage. It's very close to the authentic dish that was cooked in Hungarian peasants kitchens. It was quick to put on the stove and only required 1 new secret ingredient that I had to go purchase. We decided it would be eaten year round! I grew up with my mom's Americanized version. Give this one a try! I think you'll love it if you're eating for a liver loving diet.
Low Sodium Hungarian Goulash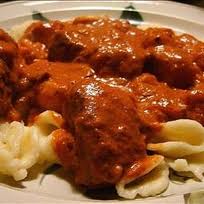 Ingredients
Lean stew meat
Sweet paprika (this is the secret ingredient)
A little garlic powder or 1 crushed clove
1 can diced tomatoes
1 can tomato sauce
½ onion chopped.
Pasta
Instructions
I cut the meat into smaller pieces, covered them with Sweet Paprika, and browned them in a couple of tablespoons of olive oil.
After taking the meat out, I tossed in the onion and garlic with a little more olive oil and let them sauté for about 10 minutes on low.
I dumped it all in a pot on the stove and added the tomatoes. Cover it and cook on medium.
After about an hour of simmering on low, I put on some shell macaroni. You can use any type of pasta.
You know it's low sodium. Since I have trimmed all the fat from the meat, it is also heart healthy low fat!
http://www.ihelpc.com/liver-loving-recipes/meat-dishes/hungarian-goulash/
I served it with bread and butter. Wow! We cleaned it up! I took the little bit that was left to work the next day and heated it in the microwave. It smelled so good that the entire break room wanted the recipe. I think they may envy the delicious food that I'm forced to eat with my cirrhosis dignosis due to hep c. I haven't had ascites or paracentesis in 2 years!