Rons Easy Low Sodium Mexican Casserole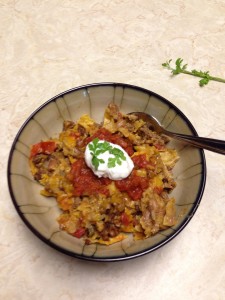 My friend Ron from Arkansas just cooked up a recipe and posted it on my Hepatitis C Facebook. It had my mouth watering before breakfast. This makes a large dish that can be great for your family gathering. Of course we had to tweak it so that it would be liver loving. That meant a few items were switched to make it low sodium. There is a total of 2400 mg sodium in the whole dish! You can freeze the leftovers. (There won't be any at my house) The changes using low sodium soup and swiss cheese just about cut the sodium in 1/2.
Ingredients and Directions
Rons Easy Low Sodium Mexican Casserole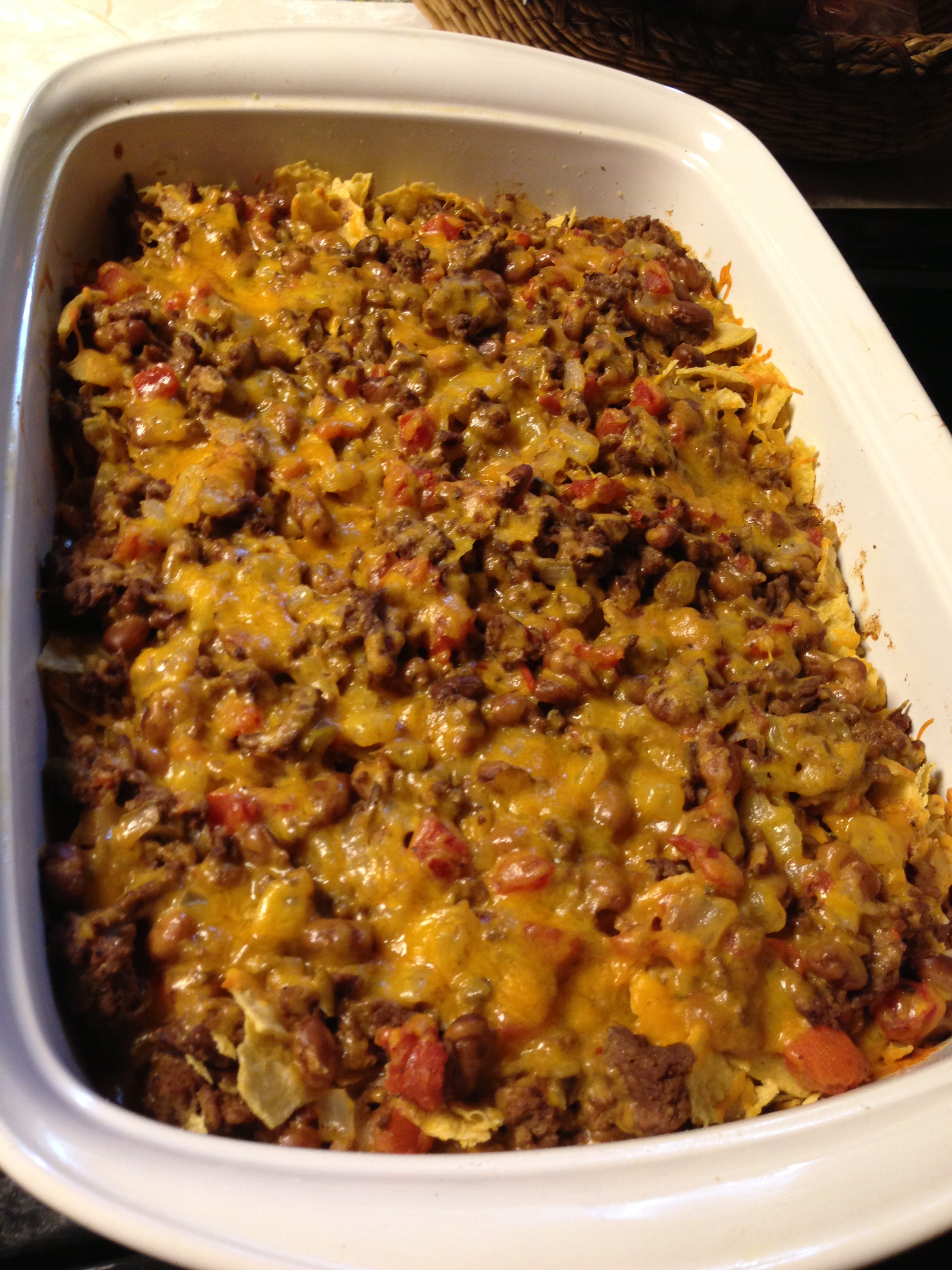 Ingredients
1 pound lean ground beef
1 can no sodium pinto beans
¾ of a 10-12 ounce bag tortilla chips, crushed
1 can Ro-tel tomatoes
1 small onion chopped
1 cup shredded cheddar cheese
6 slices swiss cheese
½ package Williams seasoning
2 T Mrs. Dash Extra Spicy
2 tsp Cumin
1 can no sodium cream of mushroom soup
1/2 cup water
Instructions
Preheat oven to 325 degrees. Get out the big skillet for this one. Brown the meat and drain off fat. Add the beans, tomatoes, onion, taco seasoning, soup and water to your pan. Cook on medium/low til it is all blended and hot.
Spray a 9×13 casserole dish. Sprinkle ½ of the crushed tortilla chips and spread your meat/bean mix on top. Tear up 3 slices of swiss and put on with half of the cheddar cheese. Repeat. Cover with foil and bake for 20-30 minutes. You can take the foil off for the last 5 minutes to let it brown a little. When the cheese is melty and it's all bubbly, you know it's done.
Try and let it cool about 10 minutes before serving. Put some sour cream and salsa out to serve with it!
http://www.ihelpc.com/liver-loving-recipes/low-sodium-casseroles/rons-easy-low-sodium-mexican-casserole/
For all of you men out there who think they can't cook – give this a shot! Ron whips up liver loving  recipes! It is good to share what is working for us.  We're in this together. The connection is what makes us strong, healthy, and healing from Hepatitis C, cirrhosis, and liver disease.
Put on your sombrero and have a fiesta at your house this weekend! Ole'! Adios, Karen:)
Ron got this from singforyoursupper website and we changed it up and borrowed her pic. Ron's was half eaten by the time I got this written! If the margins are a little janky…. please forgive me. It's all a work in progress.