CAB Juice is an acronym for Carrot, Apple, and Beet.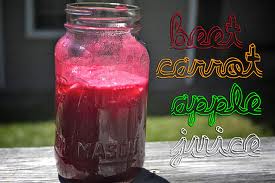 This is simply the safest and easiest juice to make. You will get liver detox benefits and nutrients to support your liver while on Hepatitis C treatment and beyond! You can never go wrong by throwing these ingredients into your juicer. The carrots and beets can be cleaned and cut up in advance. Just keep them in large storage bags in the fridge. When you are ready to juice, all you have to do is quarter an apple and put it through the juicer. It will take you longer to drink it than to make it if you "chew" it slowly like I suggest in the Juicing Detox Recipe page.

Serve it with a celery stalk for flair. You can use it stir with!
The detox, flush, or liver cleanse can be used if your liver is fairly healthy and with your doctor's approval. I like the peace of mind that comes in knowing that my body is getting the best nutrition possible. I am also a lazy cook. I love my kitchen, but too much time in front of the sink or stove can get me down. If this is the only juice you make, then your liver will love you.
You will be surprised at how sweet the carrots are. This is not a vegetable tasting juice. It's beautiful and sweet. Once I get started, everybody wants a drink of mine, so I have learned to make extra if the kids are here. It is easy to stir in a green supplement powder with it. That way you are getting your probiotics at the same time! We be liver loving Bff's. xo Karen:)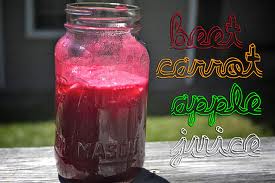 Ingredients
5 Carrots
1 Apple
1/4 or 1/3 of a Beet
Instructions
Follow your manufacturers instructions. For tips on easier juicing, check out my blog titled Best Juicing with Hepatitis C.
http://www.ihelpc.com/liver-loving-recipes/hepatitis-c-cleanse-and-detox-juice/cab-juice/
This pic is from karmajello.com until I can get some taken. Lots of ideas, very little time. But my juice looks like this and I love the mason jar..