Hepatitis C Cleanse and Detox Juices are a safe way to get the nutrients you need while supporting your liver. They are so refreshing and it just makes you feel better as it goes down. One tip I have always used was to "chew" the juice. In other words, do not just drink and swallow. Kind of allow it to swirl in your mouth a few seconds. Because you are not actually eating does not mean that your stomach can process it without enzymes. Chewing the juice just a little activates your salivary glands and helps your body to process the nutrients better. It also helps the flavors to reach your taste buds and just makes it more fun. I do the same with dark chocolate. lol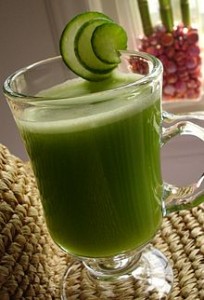 I've made a couple of Youtube videos about juicing. Join me at the farm by clicking here!
Sugar Content – Because your liver works hard to metabolize your food, it is important to realize how fruit and vegetable juice acts in your body. It is a complex carbohydrate, which is a good sugar for you. But it is still a sugar. My nutritionist reminded me of this because I was juicing daily and it added up to a lot of calories. I now take this into account. If I have a large juice in the morning, I simply drop a snack later in the day. Do not let this stop you from juicing. Just be aware that if you have Cirrhosis, Nash, fatty liver, or diabetes, your body's ability to process large amounts of sugar at once is compromised. Spread it out during the course of your day to keep from getting a glucose high or low.
Sodium Content must also be taken into consideration. While the sodium is much lower than in process foods, there is still some naturally occurring sodium in fresh produce. It adds up. For example a simple CAB or Carrot, Apple, Beet juice can contain up to 300 mg of sodium. If you are on a sodium restriction of 2ooo mg or less, be sure and add it in. I use this list from the Cleveland Clinic to guesstimate how much each glass of juice contains. Btw- they did not list apples. So low it doesn't even count!
I like to experiment with different blends so the recipes will contain some with more sweetness and other with a little zip! The Hepatitis C Cleanse and Detox Juice is a safe way to get nutrients you need while supporting your liver! These recipes can be used for Cirrhosis, Nash, fatty liver, or even if you do not have liver disease. I have been on the juice bandwagon for over 25 years. I truly believe it is one of the reasons I am alive today.
P.S. Blog on pears. My oh my what a great juice they make and retain the natural goodness too!
For CAB juice recipe click HERE!
Check out my blog for everything from how to choose a juicer to how to prepare the vegetables. You may become a juice addict, like me. xoxo Karen:)
What are your favorite recipes for juicing? Send me some and I will share them with Your Best Friends!
| Food | Serving Size | Milligrams/Sodium |
| --- | --- | --- |
| Asparagus | 6 spears | 10 |
| Avocado | 1/2 medium | 10 |
| Beans, white, cooked | 1 cup | 4 |
| Beans, green | 1 cup | 4 |
| Beets | 1 cup | 84 |
| Broccoli, raw | 1/2 cup | 12 |
| Broccoli, cooked | 1/2 cup | 20 |
| Carrot, raw | 1 medium | 25 |
| Carrot, cooked | 1/2 cup | 52 |
| Celery | 1 stalk raw | 35 |
| Corn (boiled, no butter/salt) | 1/2 cup | 14 |
| Cucumber | 1/2 sliced | 1 |
| Eggplant, raw | 1 cup | 2 |
| Eggplant, cooked | 1 cup | 4 |
| Lettuce | 1 leaf | 2 |
| Lima beans | 1 cup | 5 |
| Mushrooms | 1/2 cup (raw or cooked) | 1-2 |
| Mustard greens | 1/2 chopped | 12 |
| Onions, chopped | 1/2 cup (raw or cooked) | 2-3 |
| Peas | 1 cup | 4 |
| Potato | 1 baked | 7 |
| Radishes | 10 | 11 |
| Spinach, raw | 1/2 cup | 22 |
| Spinach,cooked | 1/2 cup | 63 |
| Squash, acorn | 1/2 cup | 4 |
| Sweet potato | 1 small | 12 |
| Tomato | 1 small | 11 |
http://www.clevelandclinic.org/health/health-info/docs/1800/1834.asp
pics via wikipedia