Breakfast for Cirrhosis – Breakfast is the most important meal of the day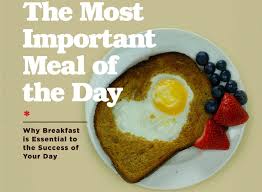 It is the one thing that never should be skipped. The word itself a compound word: break and fast. While you are sleeping, your body is fasting from food. Your liver is busy processing and storing sugars, proteins, and other nutrients.  Breaking your night time fast with nutritious food is a smart way to start your day! Keep in mind that a cup of coffee is shown to reduce the risk of liver cancer.
Here's where to find hundreds of low sodium recipes for food that is safe for your liver.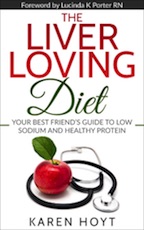 Protein Shake – A premixed or powder shake is an awesome and quick pick me up. Your body will give you that Ahhh feeling of mental clarity and no jitters! I mix mine with a little coffee, almond or rice milk, or even water in a pinch.
Oatmeal – You cannot beat a good bowl of oatmeal. I like whole oats most of the time. If there has been a recent endoscopy, banding, or just plain nausea, I use the quick oats. In those cases, I eat it plain and thin. You can load it up with sliced bananas, walnuts, or blueberries. The list is endless and includes brown or coconut sugar, and cinnamon. Try raisins, or other dried fruit. I add frozen berries sometimes too!
Smoothie – Speaking of frozen berries, I hope you have an blender. I've worn a couple out, and they are awesome! Pour in your favorite milk, some fresh or frozen berries, a scoop of protein and hit the button.
Eggs – I try to keep some boiled eggs in the fridge for snacky mornings. But when you have the time, cook them your favorite way in a little olive or coconut oil. I eat them well done or scrambled. By cooking extra, I can stick a few in a zipper bag for sandwiches later. Sometimes I add cheese to make it nice and melty.  Jazz them up with some no sodium herb and seasonings! I've got the scoop on which proteins are best for the liver here.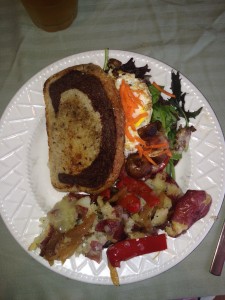 Toast – Toast and jam can give you everything you need. I get all crazy about toast and use a lot of different toppings. You can try an olive oil type margarine, no salt butter, coconut oil or nut butter. I kind of base this on how well I've been eating. Higher fat foods like butter are okay in moderation and there is no substitute for toast with butter. Other toppings that you might enjoy are honey, cinnamon and sugar or stevia. Lay an cooked egg on top with cheese. The possibilities are endless!
Cold cereal – You can eat it, but be choosy.  Watch out for hidden sodium and high sugar content. I like All Bran, Shredded Mini-Wheats, and a healthy cheerio type. I also love Captain Crunch and Honey Smacks – Digg em.  I've paid a high price too. For those of us with end stage, we have to really choose how often we indulge in those types of food. Sugar Puffs or Cadios from the health food store are a little more boring, but you can indulge more!
Juice – Juicing is always a treat for your body. Choosing carrots, apples, and beets is an easy CAB juice. Get fancy when you can and throw in all colors of fruits or vegetables.  Adding green powder packs in the probiotic and vitamins!
French toast – My famous high protein healthy French toast recipe is still a family favorite. I make a big batch on weekends. This allows me to carry some to work for breakfast on the go.
Bacon or meat – Who doesn't love bacon? There are low sodium brands that are pretty darn good and you can always eat turkey bacon.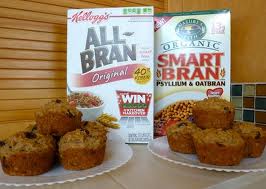 Bran Muffin – I have a dozen good bran muffin recipes. Some are as easy as making a bowl of cereal. The batter keeps and is great with fruit tucked in before baking. Adjust the recipe for no sodium and you have a great breakfast bread.
Wake up your mind slowly with good thoughts.
Wake up your spirit with loving words.
Wake up your body with liver loving food.
Make breakfast a part of your morning routine! Jump start your metabolism for the day. Process proteins better. Breakfast can help with that.  
It can also contribute to your weight loss plan. It is sure to stabilize your blood sugar.
With a hot mess for a liver, nutrition is my best ally. It is yours too Friends. Xoxo Karen:)
What are your favorite breakfast foods? Do you eat breakfast every morning?
Click on my protein link here.
Click on the Sample of Daily Liver Loving Diet here
Click on the Low Sodium Food Shopping List here
If you have Hepatitis C or Cirrhosis, you need to keep your metabolism going with small meals. After Fasting all night, eat breakfast for cirrhosis to get the protein you need in a low sodium, liver loving diet.
pics via foodsforlonglife.com, silk,