Is Too Much Protein Good or Bad for Your Liver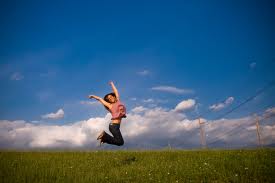 We all want to feel like we are in charge of our choices when it comes to living with a liver disease. The whole protein question is one that leaves us feeling pretty confused. It has been said that too much is not good for you, but we all know that protein is essential for many of our body's processes. I had to make peace with protein. It has taken a lot of sleuth work, talking to my doctor, and trial and error to find out the facts. Is Too Much Protein Good or Bad for Your Liver? Let's look at the answer to this important question. We will discuss the functions of protein, how your body processes it, and how to get enough from the right sources to heal your liver.  
Function of Protein – You have probably heard that our body is mostly made up of water. Protein is next in line. Every single cell of your body contains protein. It performs myriads of functions for your body. The list is long and includes top line survival tasks like producing energy, and maintaining cells. Another of it's occupations is to grow healthy  hair and nails! It helps to build muscles, organs, and your immune system.  It works day and night to manufacture the building blocks of your blood cells! Your body converts it to a source of energy if you do not have enough carbohydrates to burn. It also helps to repair damaged muscle tissue, which is why it gets a lot of attention from athletes. Protein is the beginning and end of so many functions, all the way from hormone regulation to toenail growth. So you can see that getting good protein in your diet should be a major priority every single day.
There are some signs that you are not getting enough protein.  If you notice that you are constantly craving carbohydrates, you may be low on protein. Any time your body is lacking protein and looking for something to help it do its job, it can trigger blood sugar ups and downs. It could be that your body is crying out for protein to stabilize your blood sugar.  Another indication is if you are flat out tired all the time. If you are having a general lack of energy, try a protein snack and see if it helps you fee less weak.  Frail or small and flabby muscles are another sign that I noticed right away. When I tried to walk to help my legs get stronger, my muscles would ache. They were not getting enough protein to repair and stay strong! Your hair and fingernails can also be an outward sign that your protein intake is too low. Brittle hair and nails, or ridges in your nails can point to a need for amping up your protein intake!
Too much protein is fairly easy to recognize also. Your body cannot store protein, so it builds up as extra weight. Your high cholesterol level on the lab work may also be an indication that you are taking in too much protein. That is one more reason to eat protein from healthy, low fat sources. Small meals throughout the day are the easiest to process. Of course, most of us know that food coma feeling. Brain fog or Hepatic Encephalopathy might be an indication that you have pushed the protein intake a little too far too fast!
Processing Protein – What happens when you eat protein?  I first learned about protein when my granddaughter was born with an allergy to milk. She had to use a special formula that had was made of the basic amino acids. I still don't understand it all, but I learned a lot! Take your body weight and divide it by 2. THAT is how many grams you should consume daily. Find out more about how vital protein is.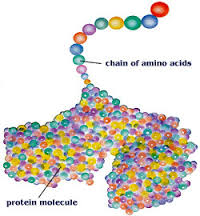 It boils down to this: In order to create proteins, you have to have amino acids. The minute we eat or drink foods containing protein our digestive juices kick in and begin breaking them down into those amino acids. There are 22 of them and they form a chain that looks like a necklace. Each of those amino acid beads string together to form the proteins that your body can use. Out of the 22 amino acids, 9 of them MUST be supplied by your diet. They are essential to your health which is why they are called the essential amino acids.
Break it down – Here is where it gets tricky for someone with liver disease.  Protein can be hard for the liver to break down. If there is extra protein that your body cannot digest easily, it creates nitrogen. That begins a chain reaction culminating in ammonia. The short version is that it create toxins. When your body gets a whiff of those toxins in your bloodstream, it can result in brain fog, lethargy, and Hepatic Encephalopathy. You can see why finding the right balance is crucial!
Pick Your Protein – Animal or plant based – Which is best?
Animal Protein – Some people believe that animal sources of protein are the best. Many different diet plans promote the idea that eating a lot of meat protein is the key to health and maintaining weight. They build on the fact that animal proteins such as meat, milk or dairy are considered a complete protein. That is because most animal based proteins can contain all 9 of the essential fatty acids. So a steak or cheeseburger will definitely supply what your body needs quickly.  
Plant Protein – On the other hand, if you eat a vegetarian diet, you have to eat a wide variety of plant based proteins to get all the essentials. A peanut butter sandwich can also be considered a complete protein. Peanut butter alone is not, but when you add the bread, it is considered a complete protein meal. Beans are also good, but they need to be served with rice or another grain, such as quinoa to supply the 9 essential fatty acids needed to make a complete protein meal.
You Can Have It All – I personally go for a combination of both. I love to eat well and mix it up with both animal and plant protein food sources. The key is diversity. If I try and restrict myself to straight up plant protein, I get bored. By adding a little meat, I am able to enjoy the added flavor and variety. Remember, you do not have to eat a complete protein with every meal or snack. Just be sure that you sprinkle it throughout the day, or night if you have reverse sleep pattern and wake up hungry! I eat just before bed and also have a spoon of peanut or almond butter in the middle of the night if I wake up hungry! The main sources of protein in my diet are protein shakes, beef, fish, chicken, beans, eggs, cheese, yogurt, nuts, grains, and seeds.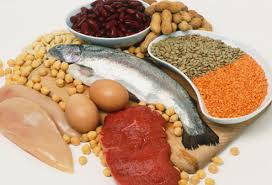 Just switch it up! I drink a protein shake for breakfast that has a lot of amino acids. Then for lunch I go for a sandwich, protein bar, or salad with meat. Dinner is also a combination of both meat and plant protein such as a shrimp stir fry, bean burrito or tacos, or soup with lots of chicken and vegetables.
Protein is needed by the liver in order for it to heal. My transplant doctor has stressed from the beginning that a good protein intake is the first step in helping me to stay alive. I have been riding the protein see saw for almost 4 years now. On my last visit, he even stated that in order to reverse fibrosis, protein is crucial. He reads a lot, and while I do not always understand what he is talking about, I always listen to his advice.
Dr. Elbeshybeshy at Nazih Zuhdi Transplant Center in Oklahoma City is always learning how to best help his patients. He has kept me alive this long and I trust him with my whole heart. He gets really excited when he talks about ways of helping my liver to heal and with End Stage Cirrhosis. This news was pretty thrilling to me.  It also confirmed my need to eat good protein!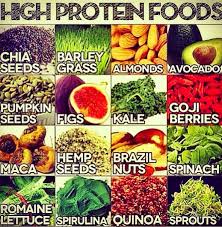 Recap:
We have learned about the science of how protein functions in our body at a cellular level.
We also talked about how we process it by breaking it down into amino acids.
Most important, we covered how finding the right combination of protein sources can help your liver to heal and even reverse the damage of scarring from fibrosis.
By knowing how to choose good sources of protein, I am counting on healing my liver naturally from Cirrhosis and the effects of Hepatitis C. Is Protein Good or Bad for Your Liver? The wrong sources eaten in poor quantities can be bad. But the right proteins eaten in the right quantities can be a key factor in healing.  
Always striving to learn more about healing and making the right choices for our lives, I am your Best Friend in the battle against Hepatitis C and Cirrhosis. And I love you dearly, Karen:)
Pics via functionalfit.com, runningcompetitor, veganrecipeins, divahound.com