Finding Liver Cancer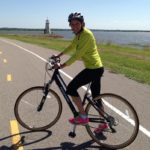 Up until a couple of years ago, the biggest threat to my life had been the Hepatitis C Virus. I got that "Not Detected" and was so excited. I still had cirrhosis scarring, on my liver, and that was a letdown. I also knew that medications and tests would be a permanent part of my future. But by golly, I had a future! The virus was no longer attacking my liver. I went on my merry way until that one day when my 6 month ultrasounds showed a spot. Dang it. Dang Dang. Dang it.
The ultrasound technician was young. I chatted her up asking questions about her school and family. She was expecting her first baby and described the nursery to me with such joy. We wiped the gel off of my tummy and I headed to the lab for my fasting blood draw. Then I jetted to the cafeteria to get some juice to mix my protein powder with. It was a routine that I'd been through twice a year for a few years now.
When I finally got around to the doctors office, I felt a bit embarrassed. I'd worn a bright green shirt and running capri style pants. I had made that 5 A.M. got-to-be-fasting drive bunches of times. I always kept my bicycle in the back of the car, so I decided to go ride Lake Hefner after my appointment. Now, while chugging my protein shake, I settled into the office and ignored people's stares at my neon outfit.
I scrinched up my eyes to look at facebook on my phone. Soon I was called back and the nurse asked all the same questions. Double checking medication doses. How was the hepatic encephalopathy? I hadn't shaved my legs and was hoping they wouldn't check for ascites. She left me alone and I was back on my phone. I loved seeing my medical staff. I felt like they love seeing me.
Next, the nurse practitioner came in and looked at the computer screen. She had the labs back and rattled off numbers, complimenting my hemoglobin. She then reminded me that my platelets were always going to be low. I liked her new haircut and told her so. She compliments my hemoglobin, I compliment her hair…… She clicked to a different screen to get the result of the ultrasound. I saw the look on her face. It changed instantaneously "You've got a tumor" she pronounced.
Oh Shit. Did I say that out loud? I'd never been a cusser. That's because I'm a teacher. I was afraid if I cuss at home, I'd cuss at school. This announcement seemed worthy of the expletive. Trish echoed it back to me, confirming that she had heard me and agreed. I was indeed a cusser now. We both got teary for a second, me staring at her, and her staring at the computer. Then she made the first move and sprinted out the door.
She wasn't gone 30 seconds to get the doctor, the MRI scheduler, and the nurse assistant. The room was suddenly, and comfortingly crowded. My team. My posse. They were all here doing… stuff – you know, stuff to help me. I watched and half listened to all they said. The tumor board meets Tuesday, get a CAT scan today, call for insurance approval, an MRI on Monday.. It sunk in like a bullet in a watermelon. My brain started to implode and then I took a step back. I observed what was going on in the exam room, like it was television episode. I saw them working together as a group.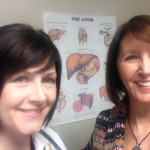 This sweet, generous, brilliant group of people knew that it was Hepatocelluar Carcinoma. My doctor was mumbling and drawing an adenoma on the white board telling me that it could be something other than cancer. I had never seen him so chatty and nervous. The scheduler dialed my insurance company again. I felt sorry for her.  Glancing around at my nurse practitioner, she was looking hard into my eyes, as though testing my strength. This was real. What are my options? Did I ask that out loud? Yes, because she answered me. "We can get you on the transplant list. You are strong. There are a lot of ways to treat a tumor."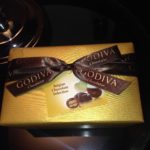 The clock ticked slow. I didn't get the CAT Scan til after 5. By the time I got to Lake Hefner, it was hot hot hot July Firecracker Oklahoma hot. I rode several miles with my tears drying as they rolled toward my hairline. I prayed out loud. I made deals with God, reminding Him of His promises. I pedaled as hard as I could with legs that felt like jelly.
Before loading my bike back into the car, I asked a group of people to take my picture in front of the lighthouse. My story about having just discovered liver cancer tumbled out. Oddly enough, they needed reassurance that I was going to be fine. I gave them my best smile and thumbs up. I told them that I found out a lot that day. I found out about liver cancer. I also found a place of peace in my heart. More than that, I found strength for the battle. That's all you need when finding liver cancer. I promise. Xo Karen:)
It was July 2014 when the tumor was first sighted. My elevated AFP marker was a big indicator. So glad to be celebrating 2 years later! xo