Hangover with Cirrhosis after Ablation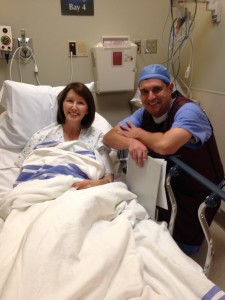 This is another one of those blogs that might not make a lot of sense. Howeva, I have found that when I experience something and write about it, so many of you have gone through the same thing. We are not alone. I'm not waiting for my brain to clear up to post a blog. That may take some time….. I think I have an anesthesia hangover with cirrhosis after ablation.
I never was a drinker. My dad drank and mama told me that it ran in the family. That scared me into never really trying it. I had some cheap Boone's Farm one summer and didn't enjoy the experience of passing out and barely remembering anything. I'm not even sure if I had a hangover back then, but the symptoms I have this week sure follow suit.
Weakness and fatigue
Shaky and dizzy
Sleepy
Confused
Nauseated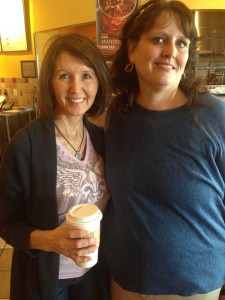 I've been drinking ginger ale for the nausea. Kind of lying around and sleeping a lot. I drove into Tulsa last week to meet Melaine from the website and facebook forums for coffee. It's funny how a main topic of conversation was about hepatic encephalopathy and our limitations. She no longer drives due to her inability to predict how alert she is to driving conditions. We had a great time, bought some flip flops at Old Navy and then I came straight home and slept.
The next day I drove to my granddaugter's program at school and then joined some other Nana's for lunch with our kiddos. I tried to run errands and then go to work. It was awful. I ended up running a red light, crying like a baby, and then sleeping in a parking lot. Needless to say I haven't been more than a couple of miles from home since then.
The procedure was simple enough. The radiation oncologist comes in and injects ethanol alcohol on the tumor. Tumors come in all shapes and sizes. This one started out kind of round, but after the Tace Procedure, it came back in pieces around the old dead tissue. Usually the ultrasound technologist guides the doctor as he goes in and aims the needle at the tumor. Except now it was now it 2 places – kind of. In other words, they couldn't see it all.
In cases like this, they move you into a CAT scan machine so that they can get a better view. The contrast dye helps to highlight the tumor. They did a second needle stick so I was under a bit longer than anticipated and can't help but wonder if that led to a little hangover. BTW – the needle is so small that the pain is minimal and even with my low platelets there was no bruising. 
I really don't remember the ride to my room, but soon Linda Lou and my brother Mike and I were discussing dinner options. I had been without food or drink so I called Olive Garden and ordered Linda and I the child's menu of pasta with grapes, salad, and bread. (hold the salt on the bread and no croutons or pickled peppers on the salad – makes it lower sodium) After eating half of that, I was up and ready for a walk.
Let me tell you, I was moving like the wind down the hospital halls. I felt like a million bucks! The words flowed out of my mouth like a Maserati around a racetrack. I felt so clear headed and strong! I pulled an April Fool's joke on the nurse and told her I'd had a transplant. It was like amateur stand up comedy night delivered by a lady on morphine in a peek-a-boo gown.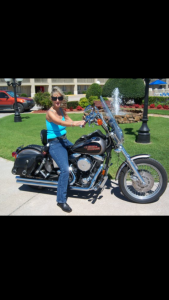 After Mike left, Linda kept trying to get me to calm down. I spilled water in the bed. I was up and down getting food. I was messing with my bags. Who knows what all she learned about me that night. It was like I was on truth serum. I would have told anybody anything I thought. Well I guess I did just that.
Linda is as bossy as I am and kind of took over. The nurse gave me a .25 mg Xanax. She made me take the whole thing. I was down within 20 minutes. Linda kissed me on the check and tucked my feet in. I was out before she closed the door. Heavenly sleep.
The next morning Mike took me home with him for "observation." I was still giddy and he did not trust me to stay down. I was insistent that I was going to teach yoga the next day. Nix that. I slept. I did stay home for 2 days before I ventured out. My decision making skills were still not the greatest.
The whole point of this rambling story is that when you have medication with end stage liver disease it is not easy for you to filter it. I think that stuff just circulates in our body and brain for days. I have tried a few things to try and get my body cleared out again.
Drink lots of water
Walk as much as possible
Do easy baby yoga poses
I have NOT used pain meds because I was afraid it would extend the hangover. It's not such a bad deal. We are keeping the tumor small and I'm waiting for a transplant!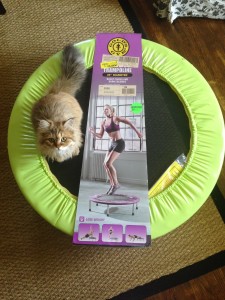 On my way to the school yesterday, I stopped by this wholesale closeout store. Sometimes they have outdated protein bars at a discount. What I found instead was a mini trampoline! It's a little scuffed and I may have to trick it out with some fancy duck tape. So I'm in those funky pajamas of mine making youtube videos today. I've laughed so hard that my ribs hurt. I'm going to post that video before I fully wake up from this hangover with cirrhosis from ablation. Who says life can't be fun – even with liver disease and cancer?
I love my besties. Xo Karen:)
pics via Linda and Karen