New Years Eve Phone Call to YOU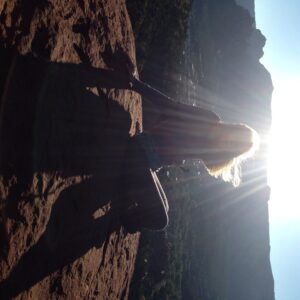 I just got off the phone with my friend Laura and she asked me to write a blog that is exactly like our phone conversations. We spent 22 delicious minutes talking about everything from New Year's Eve Plans to cheese made from cashews to snow in Arizona. When she peeked out her window and saw snow falling, we both started gushing and squealing. It make me wish I were there with her. As we hung up, I made her promise to hike in the snow and she made me promise to write this. If I could make a New Years Eve phone call to you I sure would.
This is gonna be a quick and casual blog. While it's written with Laura in mind, it's for ALL of my besties (YOU) who are watching a year end and anticipating the fresh NEW YEAR that begins at midnight tonight. Our conversations are short, but packed with lots of love. Here's what we chatted about:
Joe and I got the coolest gifts for Christmas. The best part is that we surprised each other with the same gift! It's called a Fitbit and you wear it like a bracelet. It's one of those step counters – but Oh NO! It's SO much more. It shows graphs and charts of food and even monitors your sleep. We know we don't sleep well. This proves it! I wake up on an average of 12 times every night. We could totally take these graphs to our doctor.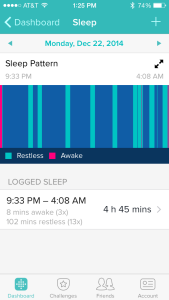 Fitbit has turbo charged my training for surgery. Joe and I are in the big middle of a step competition. We've connected the Fitbit to our phones and get constant updates and cheers from each other. If I see that he has taken 2,000 steps in the morning, I will go get on the exercise bike and catch up to him. Then I can send a "taunt" or message like "Eat my dust!"  I'm way motivated to get up off my arse and keep moving. I walk from the living room to the kitchen a dozen times if he gets ahead of me!
Today I begin the much anticipated New Year's Rituals. They have varied over the years, but the core is the same:
Cry, Celebrate, Give Thanks, Forgive, Let Go of everything from last year. I do this in a variety of ways. I write, draw, think, throw away journal pages, empty out drawers, move a "not needed now" box to the garage that is filled with books, papers, or whatever. Some of this includes dealing with feelings like Dread, Anxiety, Guilt, or Fear. That list could go on … you get what I mean. I've actually worked on this all week. Even that nasty mouse nest drawer in the bottom of the back closet got cleaned.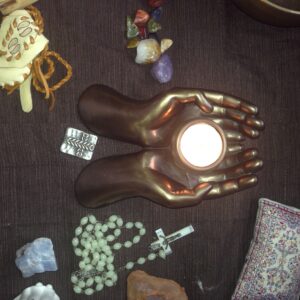 At the same time, I've been centering my thoughts around Abundance and Healing. Every day I light a candle and ask for The Light of the World to shine brightly on me. Especially at the years end, I want to feel the warmth in my heart. I need illumination in the dark places of my mind. I sit quietly and empty my thoughts, listening for the Voice that calls me beloved and cherished.
I take deep breaths and let them out slowly. With each inhale I breathe in love, holding it for a few seconds to allow it to heal my inner self. When I exhale, the love goes out into the world to you my Best Friends. I send it right into your hearts and lives. I send it to my family also. I feel the love swelling up in me and then I unite with our Creator and send it to YOU.
Of course, that is following by crying. The good kind of lovey soft heart tears that makes me want to hug you all right now. Pass the hankie.
I curl up in my little sanctuary and put on my headphones. I listen to soothing ambient music, soft Indian drums, or theta tones. My favorite thing is to create or vision with God. It's a personal time where I confront my past and explore healing for my future. I may get brave and share my process for that someday.
Tonight I will for sure take at least 15 minutes of silence. I love lists and am going to write what I intend to leave behind from last year. I'll probably tear it up into little pieces. I may start a little fire and burn it while I also burn incense.
I don't stay up til midnight any more. It's easier to fight negative thoughts – like depression – when I get good rest.
Tomorrow will start with journaling about the future. I have big plans. And a New Journal. Woohoo!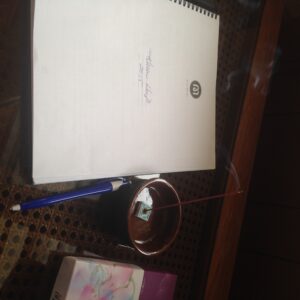 Plans: Kill cancer. Get a liver transplant. Write more about nutrition. Heal my body. Strengthen relationships. Love me. Love you.
It would have been weird if I shared a lot of Laura's personal stuff in the blog. She has New Year's Day plans of working on a vision board and planning the next big thing in her life.
It reminded me of the Mary Oliver quote: "What will you do with your one wild and precious life?"
I'm off to do my yoga/pilates/rolling around in the floor workout. I'm doing Something every single day. I can modify it when I get tuckered out, but I don't ever ever quit.
New Year's – like new mornings – are fresh starts.  In a New Years Eve Phone Call to YOU that is what I would say.
Hopeful, Expectant, Renewed. I love you Best Friends. Happy Happy New Year.
Xoxo Karen:)