Benefits of Coconut Oil for Liver Skin Care
Let me get this straight. You put the lime in the coconut and drink em both together? Put the lime in the coconut  and then you'll feel better?  We all remember the 1971 song by Harry Nilsson. Well, I have been experimenting with the Benefits of Coconut Oil for Liver and Skin Care.  This product is getting a lot of attention recently. I did the research before I began to reassure my silly self that it would not do any harm. I was so excited to read about all the benefits and uses for this fruit, nut, or whatever it is. Of course I would never keep a good health tip to myself. I want to share it with my besties. I do not believe in a magic bullet. I believe that modern medicine combined with good nutrition have the ability to add years to your life. I am typing these words as a result of having beat the Hepatitis C Virus using good food, exercise, Telaprevir, Ribavirin, and Interferon with GREAT results. Here is what I have discovered…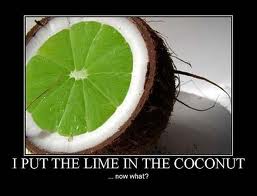 Coconut Oil Uses –
Kitchen – Coconut oil has a variety of uses in your diet and yields many benefits. It can be used for cooking just like olive oil. It starts off looking like Crisco in a can, but melts down easily. I've been using it for chicken, shrimp, hashbrowns, onions, and just about anything else that calls for a pan. It can withstand high heat for stir fry also! For sure I will be posting some liver loving recipes, so check it out. Because it has a slightly sweet taste, it can be used in drinks like tea or coffee, like butter on your low sodium toast, or in hot cereals. It is a lot like palm kernel oil and is the main ingredient in coffee-mate.
Bedroom or Bathroom – I keep a jar in the bedroom also. It glides on your skin so easily and it reduces that scaly skin look and feel. It has become a part of my bedtime rituals to soften up my feet. I use it all over after every bath now. Since clearing the Hepatitis C virus, I do not have the extreme skin rash and itching as bad. I do still deal with dry skin because of cirrhosis. I also have eczema patches that become irritated. It peels and itches and looks like leprosy. After dabbing it on those pesky spots, they have dimished to nothing! I also used it yesterday since I got a slight sunburn at the pool. I am neurotically careful about chlorine and also the sun because of Hepatitis C and liver disease. I slathered that stuff all over my shoulders last night and it brought immediate relief. I think it is going to turn to tan without peeling!
A note here: I tried it on my face with mixed results. Within 2 days of using straight up coconut oil, I had a break out session of zits. I went back to my careful facial skin care that I have used for years. Facial skin is sensitive. If you have a regime that is working, stick with it. Then again, if you are young and your face is not hyper-sensitive, do you own experiment. The cost alone makes it worth a try!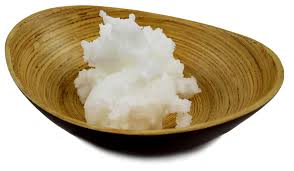 Internally  Digested Coconut Oil Benefits –
There are so many positive things about coconut oil that I cannot believe we have ignored it for so long. It has been used since ancient times for the medicinal benefits.  The process of extracting the oil from olives or coconut varies depending on the brand. Check out the buying guide below.
Good fat – The oil from coconuts are made up of Medium Chain Triglycerides or MCT. Basically, they are smaller fats that are more easily used by your body. Most fats are Long Chain Triglycerides and are harder to digest. MCTs in coconut oil do not require bile during digestion which helps the liver. What? I will say it again. The absorption of good fats is easier on your liver. This is great for those with Nash, fatty liver, cirrhosis, or any stage of liver disease.
The MCT effect also means that they are absorbed quickly as a source of energy. If you have liver disease, malabsorption and malnutrition can be a problem. This can create a myriad of symptoms including lethargy and fatigue, bleeding in your bowels, brain fog, and the list goes on. Both malabsorption and malnutrition were an early clue just before my liver failed, I just did not know it.
Weight loss – Coconut oil has been proven to have fat burning effects called thermogenesis. Some body builders use it to help metabolize fat. So if you are trying to lose weight, this can be a boost!
Brain Function – I'm having faith that the timing and quality, as well as the type of food I eat is helping my brain fog.  You can google search and find a lot of material relating to Alzheimer's disease and coconut oil. Like any alternative treatment, a doctor's advice is your safest bet.
Bacteria and Candidas – Ulcers can be created through stress, but also through a bacterial infection caused by H Pylori. If you have a peptic ulcer, you may be treated with antibiotics. See my links to Dr. Pinna's site for more information about the use of coconut oil for bacteria. Suffice to say that Lauric Acid and Caprylic Acid both have antiviral, antimicrobial and antifungal properties. Those properties have proven to invade the cells of harmful bacteria while leaving friendly bacteria alone to do it's work. Some proponents say that is can also rid your body of too much yeast and other fungal overgrowth. I think it is a great addition to yogurt for stomach and esophageal varices treatment.

Everything in Moderation – I use a refined food grade for cooking and use the same on my skin. With End Stage Liver Disease, or any stage of cirrhosis, it is best to talk to your doctor about what is best for you. Cooking with coconut oil is easy. I bought my first jar about 6 weeks ago and have used approximately 1 ½ cups in my kitchen. Keep it simple.
If you have Hepatic Encephalopathy or are Diabetic take note: Talk to your doctor about how it may effect your insulin needs. Coconut oil does produce ketones and is a quick delivery to your liver.  The key word here is moderation.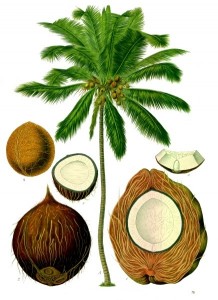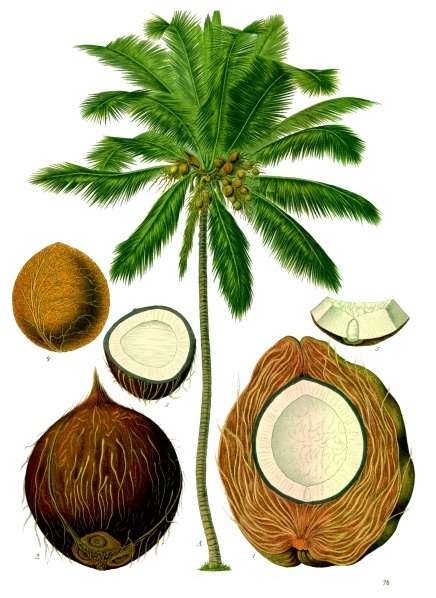 Externally Applied Coconut Oil Benefits –
Skin rash – For those who are on Hepatitis C Treatment, you need relief from skin rash. This is one of the oils that would be wonderful while on treatment. I think you are going to love it! I alternate it nightly with olive oil now that I am hep c free.
Sunburn – This brought quick relief. It is calming and cool. One drawback: It does not absorb very quickly.
Allergies – I spend a lot of time outdoors on my little 3 acre farm. Chigger and mosquito bites can bring big whelts to my skin. I use this with tea tree oil to reduce swelling and itching.
Dry  Scaly Skin – As I stated above, this is keeping my skin moist and it looks much smoother too.
What to buy – I have a few brand names that I have trusted over the years. Jarrow is one of them and I happened to run across a buy one get one free sale. I really do not enjoy researching this versus that, but I do not like to waste money either. Some coconut oils are processed using high heat and do not taste as good. Check out the shopping link below or just do what I did. Hit the health food stores and watch for a sale!
I could not wait to share this blog with you because there are so many benefits of coconut oil for liver and skin care, brain fog, and other problems we deal with daily. I feel good about myself when using something that helps my body. This is a simple way to take care of a LOT of problems that are the result of liver disease or Hepatitis C. You know I am posting the Harry Nilsson video on my Youtube faves. Come on and jam with me. I said Docta! Is there nothing I can take? xoxoxo, Karen:)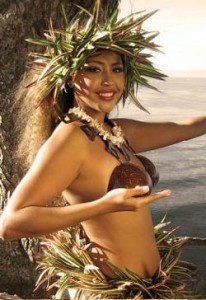 P.S. There is so much info out there. I read all of these sites and gave you the short version. You may want to browse these sites if you are into research. I think everything was pretty well covered in the blog.
Dr. Oz 3 minute video: http://www.doctoroz.com/videos/coconut-oil-super-powers-pt-2  
General info and weight loss: http://www.leanandmuscular.org/mct-oil.php
Learn more: http://www.naturalnews.com/025199_oil_coconut.html#ixzz2W7IagXcE
Shopping info: http://www.foodrenegade.com/how-to-choose-a-good-coconut-oil/
Alzheimer's link:  http://www.adcs.org/research/eNewsLetter/ADIN_E-Newsletter_July_2012.pdf
pics via wikipedia.com, cookie-loves.com, bananawindsblogspot.com, myhealthybynature.com