Arm a Plan for Life with Hepatitis C and Cirrhosis
I have been thinking about setting goals and making plans. I told you that I had a little lesson plan revamp for my life. The diagnosis of Hepatitis C and Cirrhosis brought about a total collapse of my entire life. It became a giant sinkhole has swallowed up the life that I had been living. Now that I have beat the Hepatitis C Virus, I am still dealing with the aftermath. It is time to Arm a plan for life with  Hepatitis C and Cirrhosis.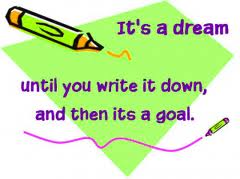 You know that I am all about positive thinking. The life that we lead while we are going through Hepatitis C treatment, living with liver diseases like Nash, fatty liver, Cirrhosis, or autoimmune problems goes so far beyond positive thinking.
I mean really far far beyond positive thinking. 
ARMED and Ready – I am formulating a plan. I think a good plan needs to be tested to see if it is even possible. I use the acronym ARM when writing a plan. Then I can ask some questions and see if the plan is worth my time.
A is for Achievable – Identify what will be achieved -What is the purpose or objective of the plan?
R is for Realistic – What actions or behaviors can I use to make it real? Will I really do it?  What will really work to accomplish the goal?
M is for Measureable – Design a strategy to see if objectives worked.  What was really learned?
I am starting with my thinking. It has been scattered for 3 years now. You can look at my journals and see just how messy my thoughts have been. Hepatic Encephalopathy will not beat me. I am really putting myself out there showing you my personal stuff. But I have gotten to know many of you well enough that I feel like you get it. And if you don't? Then I cannot worry about that. My experience with illness has taught me that if I must take care of myself.
Our support system may be great, but no one else is living in our mind or body.
I know that most of us living with the effects of Hepatititis C and Cirrhosis are dealing with some messy mental stuff. We can still build a meaningful and beautiful life out of the health problems we are facing.
Here is how I ARMed my very 1st plan:
Achievable – Goal : To have more peace of mind. I believe that peace is possible.  Yes. I can achieve that.
Realistic – Activities: Spend more time listening to myself. I will do some quiet reflection. Yes. It is realistic.  
Measurable – Evaluate my progress every night when before I go to bed. Then I can give myself a grade on a scale of 1=10. Yes. It is measurable.
Getting more peace of mind can be hard. If it were easy, then the whole world would be chillaxing all the time. A good way to start is by thinking about what you are thinking about. We all have access to our thought life. Nobody else can read our thoughts. That is probably a good thing most of the time!
When I feel uptight about a situation, a big knot forms in my stomach. Not so good when you have active varices. My thoughts may start to race from one thing to the next. 
My goal is to stop and listen to my thoughts when they race around. I think it will help to ask myself a question or two. What am I really afraid of? Is there even one peaceful thought that that I can focus on?
A little candle in the corner can light up an entire room.
A small peaceful thought can change your entire day if you meditate on it. In other words: choose a favorite thought, scripture, prayer, or word and focus on it.
When my daughter was young and got mouthy or cranky with me, I invited her to take a time out. Not as a punishment, but just to distract her from whatever was keeping her stirred up. I am going to invite myself to take a time out. During this time, I will read something positive like an uplifting blog, book, or verse, and do some honest writing or journaling.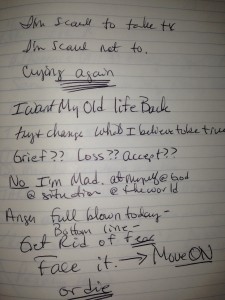 Ah. The journal.  We tend to see this as too much work, or too personal. We have all kinds of excuses NOT to write.
Before you men throw this totally out, wait! When my dad came out of his hepatic coma with alcoholic cirrhosis, I gave him a journal. He quit drinking and ended up filling several of those notebooks throughout the years. They are some of my most cherished possessions. They helped save my life when I was diagnosed with HCV.
Hands off! We may be afraid of someone reading it. Keep it hidden or keep it with you at all times. Set a boundary and tell everyone that it is none of their business! You have simply GOT to have a place where you can go to look at your personal thoughts. Many of mine were so messy that no one could read them anyway.
It's ugly in there. When we are sick especially, our thoughts can be dark. We do not even want to see them. This kind of honesty is brutal. Maybe it is painful to write or read your own thoughts. One thing I do is to give myself permission to rip the pages out and throw it away when I am finished writing. I usually don't do that, but when I do hate my own disorganized thoughts, tearing them up in little bitty pieces or lighting a match to them feels good.
It will require me to change my habits. Sometimes we get used to our own thoughts of despair using our mind as a playground. It is really tough to put a stop to them when they are swinging or whirling around at a fast speed. I have had to force myself to be more aware. I have learned to sit and listen to myself. Only then can I interrupt my thought patterns. When I write down the negative thoughts, my habit is to write down positive thoughts also. It has become a easier for me with time.
One of the reasons that I have written so many blogs in the last year is because I needed a focus for my thoughts.
This little website is proof for you and for me – It IS possible to set a goal of controlling our thinking. I have ARMed my goal and made it work for me. Best friends, I might have gone stark raving mad if not for setting that goal. You may not start a blog, but you can always send me your thoughts on paper. It may be just what someone else, including me, needs to hear.
We have made sure that listening to our thoughts and writing them down is Achievable.  We know that it is Realistic. All we need is pencil and paper. We will be able to Measure it every night as we read through our own pages of scribbledy notes.
We can see if we were honest about our pattern of thinking. We can recognize our ability to direct our thoughts. Then we can take the positive thoughts and think on them as we are falling asleep.
I have a little bit of a head start on you. This process has been refined for me over the period of 3 years while dealing with the Hepatitis C and Cirrhosis diagnosis. I can honestly say that it works. I still do it every single day. I have to because the effects of the disease are still with me. I will never be able to fully move away from it.
But I do move on. And I want YOU to move on with me. Maybe you have your own way of dealing with thoughts storming around in your mind. I would love to hear about it. Sincerely. Let's keep up with each other's progress. One of the things that keeps me going is knowing that you are out there fighting for your life too.
I read your comments on here, or in a story on Facebook and I feel so connected to you. We are in this together. We are in it to have a victorious life.
It starts with a single thought. xo Karen:)
pics via pathwaystowork.edu,