What I Do
How I spend my days has changed a lot since the diagnosis of Hepatitis C. I work full time during the school year. I currently teach high school Language Arts. I am certified in Business, Special Education, and Computer Technology. Literature is my love, so please do not judge my grammar and usage. I teach from a creative viewpoint and grade content before structure. I take into account each students learning style and meet them where they are. In my classroom, everyone is a genius. Teaching is just a matter of leading them to discover how they are smart. I advocate life-long learning and do my best to promote curiosity. While I have taught at the college level before my Hepatitis C diagnosis, I now rest when I need to. Everything I say and do is filtered by my current level of brain fog and energy.
Since clearing the virus, I am able to lead a more active life in my community, but my priorities have changed. There is a newfound passion to create awareness for Hepatitis C. I feel connected to those who silently suffer symptoms without knowing why. I share in the lives of you who are making health decisions just like I do: without a lot of background knowledge. I need to know more, so I turn to those who have the knowledge. Then I ponder it for a while and talk to you about it. I experiment with new ways of helping my liver fibrosis to heal. I exercise great caution when writing to you about everything from medication to diet, lifestyle, and nutrition.
I use many ways to connect with a variety of sources through social networking. Some days I will slosh my way through a medical review journal, a nutrition blog, and a fun Youtube. Most days I keep up with online friends through forums, facebook, Linkedin, and google+. Good words are my soul food.
These things I do daily: Listen to my spirit, mind, and body. Read inspirational and educational texts relating to personal growth. Carve out a quiet time. Eat well and exercise. Love, Love, Love.
I have always kept a journal and encourage you to do the same. Some days mine is a last will and testament – a goodbye to my family. Many days it is filled with symptoms, doctor's notes, and lab results. Mostly it is scribbled notes and quotes that I clutch in an effort to understand Hepatitis C and liver disease while my body strains toward life.
With a little sass mouth, and one hand on my hip I can also say that I do whatever the heck I want to. When you feel that your days are numbered you see things from a new vantage point. You find courage to take more risks. That is what I do anyway. Karen 🙂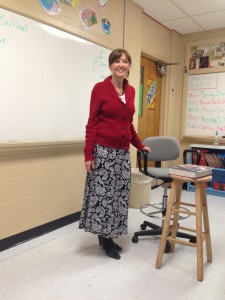 I let my students "use technology" in the classroom. One of my girls snuck a pic with her cell phone.
BTW – that is NOT what I call using technology in the classroom.