The team at Integris kept my liver under surveillance and helped me navigate varices landings and medications. My liver was just done. When they found the tumor, I was in the best hands! Dr. Duffy is my current doctor at Nazih-Zuhdi Transplant Institute in Oklahoma City. Dr. Kautzman assisted with my liver transplant. They are part of the most supportive team in the world!  I feel a sense of control again. The staff includes a nutritionist to help people eat a Liver Loving Diet and live a healthy lifestyle. They even use some of my recipes with their patients both pre-transplant, and post transplant.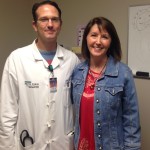 I'm proud to be an Okie. Dr. Nazih Zuhdi's vision was to create the first comprehensive organ transplant center in the US, with one cohesive unit for all solid organ transplants. One year after its founding, the institute became Oklahoma's first, and one of only a handful of transplant hospitals in the US, to perform a human heart transplant.
The Nazih Zuhdi Transplant Institute in Oklahoma City has assembled a team of some of the best organ transplant surgeons in the region, including specialist heart transplant, kidney transplant, lung transplant, liver transplant, pancreas transplant and small bowel transplant surgeons. The institute also benefits from a dedicated organ transplant intensive care unit with highly skilled, full-time critical care specialists and nurses. I spent less than 24 hours there post transplant. What a caring staff!
Their heritage is reflected in the excellence of their service:
Average organ transplant length of stay of 6 days; the national average is 10 days
Over 90% one year survival rate for many organ transplant procedures
Over 80% three year survival rate for many organ transplant procedures
*Transplant survival rates through June 30, 2010   Click link to read more.
http://integrisok.com/nazih-zuhdi-transplant-institute-oklahoma-city-ok