What to Expect after a Liver Transplant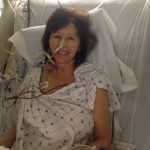 This is an email to a Best Friend who is waiting on their liver transplant. I thought you might like to read about what to expect after a liver transplant. As always, pardon any errors. I'm 3 months post and still a lil goofy.
Hay Bestie, Get ready for the time of your life. Let me warn you that most of it will be spent resting. Walking is a hoot, but the more you move, the faster you gain strength. Time your walks right after a pain med. There will be less audible groans and you'll be strutting your stuff much smoother.
Ask friends and family to help keep your room peaceful, but upbeat. You need a quiet and positive environment. Our caregivers help create that healing atmosphere. They also help meet our every need at first. I find it hard to ask for anything. My family and friends knew that and kind of hovered around. They were gentle and kind, but forceful when I got all busy.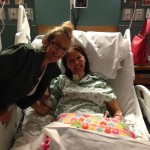 The mix of meds bring on a type of diabetes. You can expect some sugar highs and lows, but they control it with insulin. You will have your finger pricked a lot! Hopefully, that will even out over the first week. I kept a close watch on it and used ginger chews for nausea instead of ginger ale. Refined sugar is not our friend post transplant or any time.
It may seem snobbish, but I didn't eat hospital food. I stuck with protein bars. I don't know how to eat anything but my liver loving diet. My sis brought me a hold-the-salt steak from Cattleman's in OKC on day 3 with my doctor's permission. It had been years, and I savored every morsel of a bacon wrapped filet, butterflied and cooked to a perfection – medium well done. Other than that, it was all vegetable protein for me.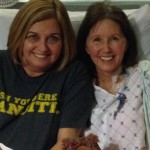 The first 24 hours were miraculous. I couldn't believe it had gone so smooth! The next thing I knew I was climbing over the rails in my zeal to get moving. Honestly, I felt so AMAZING the moment I opened my eyes. Now I know why athletes love steroids. Wow. I was one happy girl with oodles and gobs of energy. It felt kind of like I was vibrating. You may get the jitters. (I still do) and you won't feel quite like yourself. I am hoping that will continue to ease over time.
If you've had a lot of trouble with ascites, varices, hepatic encephalopathy, or been hospitalized, you may not feel so hot. I have felt so bad over the last year, and while I instantly felt better, there are still little problems I have to deal with. You may feel less energetic and achy. You may also be intubated or kept in ICU longer. This is NOT A RACE. Your body will dictate your timetable so roll with it.
About the pain. Nothing prepares you for that. Promise me you will use those pillows and the drugs! Waller around and work with the bed to get comfy. I moved my pillow (made by my friend Teresa) from side to side. I also kept my head and knee thingy up and slept for a few hours at a time that way. They will bring meds – Take Them. I took pain pills regularly for the first few weeks. I used .25 Xanax also. It helped sooth the back spasms and took me to dreamland quicker.
If you are like me, your back may hurt worse than your incision. Honestly, they cut the diaphragm to get my liver out. You may feel like you have a girdle tightened across your incision. It's inner stitches… Getting a full breathe takes concentration. Use your pillow and take drugs when you do your deep breathing. Hurts like hell, but keeps your lungs clear. I promise.
That first shower will leave you groaning with pleasure. Your hair will feel crispy till you lather it up. It bounces back! (pun intended) Ask someone bring your fave lotion from home. Nothing on your tummy at first. After all the staples all came out I used vitamin E oil only.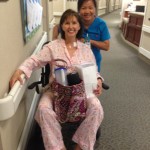 This is one of those "girl friend needs to know thangs" – A good sports bra is wonderful. Ask your doctor when you can put it on. It def helps your back. An underwire may be uncomfortable for a while, but it gets better.
Posture is a struggle. You want to stand up straight, but that invisible "girdle" I mentioned pulls you forward. Go ahead and slump for a while. You will slowly work your way to sitting up straight. I'm still struggling with standing up straight while walking.
Let your family take pics. Mine did. I'm glad to have them to look back on. Yes, My eyes were hollow and dark, and I looked like a scarecrow hobbling down the hall of the hospital, but I was Happy to be Alive.
Love Love Love. Rest. Rest. Rest. You will no longer be sick. You will be recovering from surgery. Give yourself all the time in the world to just be.
Love yourself unconditionally no matter what you do or how you feel. Do a little. Do some more. Do nothing. No diff. Just rest and think about your future.
I hope this helps ease some of your fears,
xoxo Karen:)
For back pain and other post transplant blogs click here!