Writing a Thank You Letter to Donor Family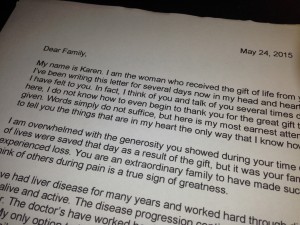 The first few weeks after my transplant, I was thinking of my donor and his family constantly. Maybe it is because the life they were living was a sharp contrast to mine. I was happy to be alive; they were dealing with loss. I found myself writing a thank you letter to donor family within 2 weeks. As an English teacher, I thought it would be easy. Wrong. My inner critic found fault with every draft. I knew that if it was that difficult for me, it might be hard for others too. If you are looking at how to express your gratitude in a letter, I hope this is useful for you.
It may be easiest to just do what I call a "free writing" letter to get started. Just pour your heart out and don't edit anything. That is what I did. No stumbling over spelling. No punctuation pickiness. No writing worries at all. Just say what you need to say in the way only YOU can say it. You may want to hand write it or it may seem easier to type onto a computer. Either way, you can go back and clean it up later.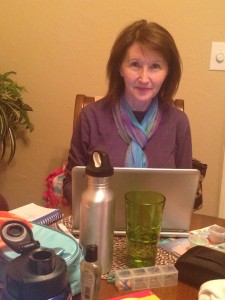 I like to start by introducing myself. Then I tell the purpose of the letter. Closing with words for them to think about is a way to sooth their hearts. In this one, I kind of apologized for my messy emotions and lack of words. This is a deeply personal topic and it is NOT easy to write about. Let your donor family know that if you want to. Even though you do not know them, you have a connection with them that will last for the rest of your lives. Just be who you are and they will see that in your words.
If you feel sadness for the family, let them know. They will appreciate the fact that although you are rejoicing that your life was saved, you are grieving with them. You can empathize with them while thanking them for what they have given you. Even though you no longer have liver disease, you have lived with it for a long time. You have had your grieving time as well.
In talking with friends who have not written a letter, I asked what held them back. Most said they didn't know what to say or did not want to say the wrong thing. Others said it was so emotional, that every time they started the letter, they got a heaviness. Some were ashamed of their penmanship or spelling. As a teacher, I have experience in helping students get over a writing hurdle.
I am going to give you a few example paragraphs to help you get started on your letter. You can change this up to fit your situation. Take parts of it and make it your own. Maybe this will just get your thoughts flowing and your letter will look totally different than this one. I trust that you will not just copy it word for word. Fill in the parenthesis with your own words as you weave your story.
Dear Family,
I am writing to thank you for your generosity in giving life through your loved one's organ donation. It is hard for me to write this because my heart is very full. I know that yours is too. My name is (first name only) and I received (organ). I want you to know how much your decision has changed my life.
 My health problems have lasted for (number of years). I have been unable to (walk far, eat well, think, exercise, work). For the last few months I have (been in bed, in ICU, commuting to hospital, etc.) The doctors have worked hard to keep me alive. (share some experiences with medications, procedures like bandings, TIPS, chemo, TACE, etc.) My whole life has been focused on getting better. I have waited to get a new (organ) so that I could have a second chance at life. You have given me more than I could ever hope for. I will always take good care of this gift as my way of saying thank you.
My favorite things to do are (reading, sports, chess, video games.. list some). I have always enjoyed (walking, jogging, nature, astronomy, gardening, volunteer work…list more). Since I got sick, I have not been able to (ride a bike, motorcycle, drive, cook…name something). I always enjoyed working at (name some work you enjoy) and look forward to the day when I can return to doing something in that field again.
 My passion in life is (tell them!) I have worked with (music, crafts, church, kids, choir, band). I hope it beings some comfort to you knowing how your loved one's life will be entwined with mine. I would love to know more about your loved one when you are ready to talk about it. I understand your need for privacy. I respect you need time to heal.
 My doctor says that (give a report) and I am (getting stronger, still struggling, slowly healing). I am taking medications for (name some) and it is working.
 None of this would have been possible without the generous gift from your loved one. I think of you with thankfulness every day. You will always be in my prayers and thoughts. I wish you healing for your family and hope that some day we can communicate. It may be hard for you to read this letter. It was hard for me to write it, but I wanted to express my heartfelt gratitude to your whole family. Your decision changed my life.
Sincerely,
 Part of my thought in writing this blog was to encourage you to give thanks for your own sake. Coming close to death helps us to realize that we should not hold our feelings back, but express them while we can. Another motive was to simply bless the family and/or person who made that decision to donate. Many of you know that I had 2 trips to the hospital where I did not get the liver. I had my second procedure to reduce the tumor to keep cancer at bay. Time was precious. My donor and his family are the reason I am alive today.
As I suggested to you, I wrote a rough 1st draft. Then I wrote a few more. I stopped to think about what kind of letter I would want to read if it were my loved one who had passed on. My final letter is a mish mash of the whole thing. Mine is something like the sample, but with my personal touch.
In Oklahoma, we send a letter with first name only and no personal information to Life Share. They forward it to the family. It has been almost a month since I mailed it. It was a big event the day Julie took me to the post office. I cried again that morning as I sealed the envelope. I admit to having hopes of meeting them. I just feel so close in heart to the whole family. It may be too fresh now. Maybe as times goes on I will hear something.
My heart is with you as you attempt to write to your donor family. My friend recently helped her family make the decision to donate her nephew's organs. She thought of me and texted me. It was extremely moving to see it from that perspective. I know she and her family can't wait to hear from the donor's whose lives were saved.
I'm all crying now. Again. It's a daily thing and very cleansing and healing. Let me know if you need any help with a letter. You can email me personally and I will try and get back to you as soon as possible.
 Much much love, Karen:)