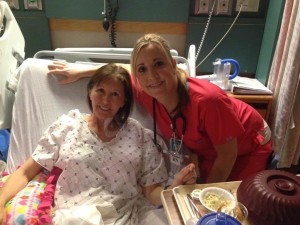 Hi there, My name is Dee.  I am a friend of Karen's.  I am a little nervous to write my own post…here goes. Karen got the transplant call early this morning.  She went to the hospital.  When she called me she was waiting and was "hunkered down" for the surgery.
I am asking everyone to please pray for Karen, her surgeon and her family. the donors family.    I probably won't know anything for a while but I wanted to at  let people know that she is having surgery.  I will provide updates as soon as I am able
UPDATE 4/13  8AM   I just heard from Karen's husband, the transplant just started a few minutes ago.   He will let me know how things are going.  God Bless him,  I was so scared when I had not heard anything.  I started searching the internet with some naive thought that I would see something, anything about Karen.  Silly I know.  I did read on her twitter account that there might be an issue with the liver size yesterday but they were going ahead with it.   She is such a tiny thing with the biggest heart. I was so relieved to hear something.  I wanted to share with you all.
UPDATE: 12PM First report from operating room, they are ahead of schedule, everything is going well.  Thank God!!
UPDATE: 3:30 PM.  I am so excited, I heard from Karen's hubby, what a guy!!  The surgeon said everything has gone perfectly!  Thank God!  I will update as I hear more however I expect it to be quiet for a bit as everyone gets some much needed rest.   Thank you all so very much, I know that it will really warm Karen's heart to read all of your posts.  I am so happy I can't stop crying.
UPDATE: 6:30 PM  I heard from Karen's daughter.  She is in ICU and is doing well.  Everyone is happy with how well she did.  I continue to pray and hope you all will as well.
UPDATE: 4/14  3PM  Imagine my shock this morning when I saw that Karen said she was feeling better two hours after she woke up.  I was so sure someone must have typed it for her.  Then I saw that she had updated her Facebook and Twitter.  She is doing well, got up today, sat in a chair.  I feel like this is such a miracle.  I am so happy for her.  She may be moved from ICU today.  I will update as I hear more.  Thank you for all the prayers.  I firmly believe they are working.
4/15   Karen continues to do well though she is in some pain and tired.  That is normal after major surgery.  I hope everyone is doing well.
4/16  Karen is doing well though up early due to pain.  I hope she can get some sleep soon. I found a picture of Karen that was taken right after her transplant.  I hope it is ok that I share it.  I felt so much better to actually see her, I hope you all do too.  Hugs, Dee
4/17 Good Morning all.  I heard from Karen, if all is going well she may be going home today!  She must really be doing well to go home so early.  I tried to look up information about transplants.  I found that the average stay is about 2 weeks after transplant.  Some people go home earlier, 5 to 7 days.  Karen is beating that.  I am sure she would love to get home to her own bed.  I felt that way after my surgery.  Those hospital beds are not the most comfortable.  I am continuing to pray and hope you are as well.  Karen will be reading all of your posts so I want to say thank you again.  Bless you all for your support of Karen.
oops. I forgot to mention…more great news! Karen was told that the cancer in her liver was contained.  That is such good news, it means it did not have a chance to go anyplace else. Thank God!!  Everyone praying is really helping so much.  Thank you all, Dee
3:30 PM I just heard from Karen, she has been in training all day , since early this morning, in preparation of her going home.    They just took the IV out of her neck so she is laying down now.
4/18 Good Morning.  I hope everyone is well.  Karen went home last night.  I am sure she is exhausted after her day of learning yesterday.  I hope to hear from her later and will let you all know.
As I have been going over this blog, I have found it is huge!  So big I have gotten lost several times.  I thought I would share this link. It is a place to start
http://www.ihelpc.com/about-2/best-friends-start-here/
Again, thank you everyone for being so kind, helpful, praying for Karen, Dee